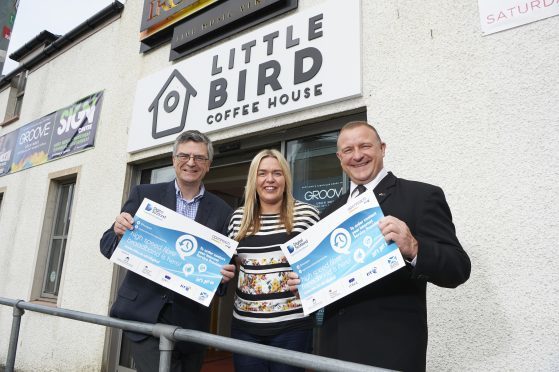 New figures showing the increasing availability of superfast high speed broadband in and around Inverness were welcomed yesterday.
According to independent research by the Think Broadband website, 78% of premises in the Nairn, Badenoch and Strathspey parliamentary constituency can now access download speeds of 24Mbps or above.  Around 86% can get broadband of at least 10Mbps or more.
The progress of the £146m Digital Scotland Superfast Broadband project was hailed by the area's MP, Drew Hendry.
Mr, Hendry, whose constituency office in Inverness is one of the latest city centre premises to order fibre based broadband, said: "It is exceptionally difficult, if not impossible, to do business now without good internet and it is fast becoming an essential part of our daily lives.
"We need to do what we can to get better service to people quicker than ever before. Indeed, digital connectivity is one of the most raised issues by my constituents.
"Whilst there are still issues around internet access and speed in many parts of my constituency yet to be resolved, I am always keen to highlight good progress such as this recent development."
Fibre based broadband is mainly delivered through cabinets rather than direct exchange connections. The latest city centre locations to be re-networked cover around 500 homes and businesses in Church Street, Queensgate, Kenneth Street, Strothers Lane, Academy Street, Friars Street and Douglas Row.
In the Highland area there are almost 250 new cabinets reaching more than 75 towns and villages.
Music and events venue the Ironworks is among the city businesses to have benefited from the upgrade.
Director Caroline Campbell said: "Connectivity is an important part of our customer service. Reliable broadband access is increasingly important to all our clients, from those having a coffee to those attending events and delivering conferences.
"As well as our customers we will also be looking closely at any benefits we can get from additional use of digital platforms and packages."
HIE director of Digital, Stuart Robertson, said: "It's great to see increased choice in the city centre. In addition to the current ADSL broadband services available, it's important we future proof the city's network providing customers with better broadband now and into the future.
"The increase in availability of fibre through 'fibre to the cabinet' is good news from small businesses and local homes. For bigger businesses or where data is a priority there are options for dedicated fibre lines and business packages."
The Digital Scotland Superfast Broadband project is funded by the Scottish Government, the UK Government, HIE and private sector partner BT, with engineers from Openreach, BT's local network business, delivering the project on the ground.
Roll out is continuing in the area, and more premises are still to be brought into the new network.