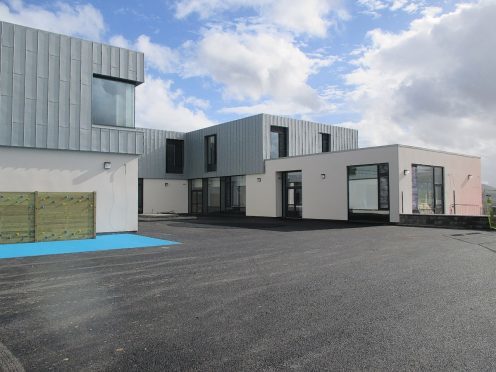 A flagship restoration project in Aberdeen, a first push into Moray and new opportunities in health and education are all expected to help Kier Group achieve further growth across Scotland after a big rise in profits.
The construction company said yesterday it expanded its order book and promoted "diverse local employment and training opportunities" north of the border during the year to June 30.
Results showing a 44% year-on-year surge in underlying pre-tax profits to £150million were boosted by a strong Scottish performance.
They follow hot-on-the heels of Kier completing an £11million project, with Alumno Developments, to build a new 196 bed student accommodation in Powis Place, Aberdeen.
And they come as the group prepares to hand over a £14million community centre and primary school campus at Caol, near Fort William, next week.
The construction division now employs more than 200 people in Scotland, compared with 185 this time last year, working from offices in Westhill, near Aberdeen, Inverness and Glasgow.
Kier Construction Scotland (KCS) business development manager Gordon Reid said projects worth hundreds of millions of pounds were up for grabs north of the border.
He highlighted school-building programmes, hospital developments, social housing heating and maintenance contracts as opportunities to bolster the project pipeline, adding KCS already had a strong order book for the next two years.
He also said Kier was targeting Moray and the Scottish Borders in order to fill a couple of geographical gaps in its operations.
The company is keen to get involved in more "heritage " projects, with Mr Reid citing the multimillion-pound renovation of Aberdeen's Victorian Music Hall and plans to rebuild Ballater's Old Royal Station after a fire in May last year.
Kier announced earlier this month it had won a £6.725million contract from Aberdeen Performing Arts to carry out much-needed refurbishment of the music hall, one of Scotland's oldest and most historic concert venues.
Ballater's Old Royal Station is among projects Kier still hopes to be at the heart of, while Mr Reid said he was even keeping an eye on the Aberdeen FC football stadium plans for Westhill as Kier attempts to diversify its activities around Scotland.
Kier is the preferred contractor to carry out the £3million redevelopment of Eastgate Shopping Centre in Inverness.
Recent work for the firm in the north includes a £650,000 contract to build a new international arrivals hall and expand the existing departure lounge as part of a near-£1million revamp at Inverness Airport.
"The pipeline of work is quite significant," Mr Reid said, adding: "We definitely see the north of Scotland as a strong area of growth."
KCS turned over more than £150million in the year to June as revenue across the whole group, which employs more than 24,000 people in operations in the UK and overseas soared by £800million to £4.2billion.