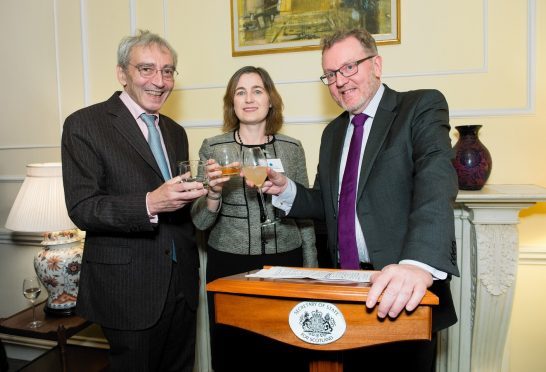 Scotch industry leaders toasted whisky's position as the single biggest net contributor to the UK's balance of trade in goods at a reception in the Scotland Office in London.
MPs, members of the industry and media were among those who gathered at Dover House in Whitehall, hosted by Scottish secretary David Mundell and the Scotch Whisky Association (SWA).
An economic report launched by the SWA earlier this year revealed that Scotch is a star performer for the UK economy in overseas markets and, without its success, Britain's trade deficit would be 11% larger.
SWA acting chief executive Julie Hesketh-Laird, speaking at the reception thanked the UK Government for its support of the industry, for example, in helping get fair access for Scotch to export markets.
She also said that the freezing of excise duty on spirits in the 2016 Budget had been well-received by the industry. As a result of government policy over the last three years, the tax on a bottle of whisky is now 87 pence lower than it would have been. And the policy has also boosted public revenue. Over the 12 months to October this year, spirits duty revenue was up 3.2%, or £99million.
Ms Hesketh-Laird said: "I'd like to thank the Scottish Secretary for hosting us this evening for our annual celebration of Scotch Whisky, recognising the industry's importance to the entire UK economy. We have an excellent relationship with the Scotland Office and have met regularly throughout the year to discuss issues of relevance, such as overseas trade.
"Brexit is clearly top of the agenda and we will be having further discussions with the government on what we see as industry priorities as the UK leaves the EU.
Also speaking on the evening, Pierre Pringuet, SWA chairman and Pernod Ricard vice president, said: "As always, we are grateful to the Secretary of State for Scotland for hosting our Scotch Whisky gathering in the magnificent Dover House. As chairman of the SWA, I have the privilege of leading an organisation committed to ensuring Scotch Whisky retains its iconic status worldwide. I am confident Scotch Whisky will deal successfully with the opportunities and challenges that lie ahead."
Mr Mundell said: "Today we celebrate the Scotch whisky industry, a truly global exporter that generates billions of pounds for our economy and supports thousands of jobs in Scotland and across the UK.
"Thirty four bottles of Scotch Whisky are shipped overseas every single second and are sold to 175 countries around the world. There is a bright future ahead for Scotland's whisky producers and the UK Government is proud to back them all the way."