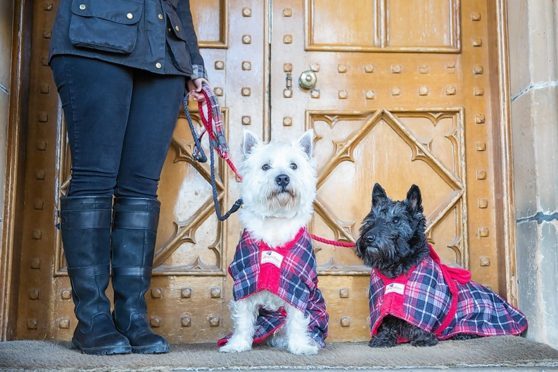 Some of the nation's pooches are looking particularly smug – and snug – this winter as they show off the latest fashion from Moray firm Dogrobes.
The Keith-based company commissioned its own tartan as a celebration of its Scottish heritage.
Renowned textiles expert Araminta Campbell was asked to come up with a design and, after 18-months of development, delivered a striking red and dark grey tartan pattern interspersed with subtle white lines.
Customers can now choose the tartan as their colour option when ordering Dogrobes' drying coats and it also features on a new range of luxury dog collars and leads.
Business owner Margaret Reynolds said: "Unveiling our new brand tartan is a moment that the whole Dogrobes' team has been looking forward to.
"We've spent the past 18-months refining our design to ensure it meets the expectations of our customers, while reflecting the brand's attachment to Scotland.
"I'm thrilled with the end result, so I'd like to thank Araminta for her imagination and dedication during the development process.
"This tartan fabric is a true extension of the Dogrobes brand which I'm sure our customers will love."
Ms Campbell, who lives in Edinburgh, said: "It was an absolute pleasure to work with Margaret to create something so integral to the Dogrobes' brand.
"Before we started the design process, we discussed in detail the importance of Scotland and the part it has played in Dogrobes growth.
"What we've managed to achieve with this design is something that represents Scotland's outstanding natural beauty, and how it binds us and our dogs together.
"I'm looking forward to seeing this tartan fabric being worn by customers in the future."
A key part of the development process was to make sure the new fabric lived up to performance expectations for the drying coats, which come in all dog breed sizes from Chihuahua to Newfoundland.
Established by Ann Playle in 2004, Dogrobes was taken over by Ms Reynolds in March 2013 as a project to "get stuck into" after her daughter left home for university.