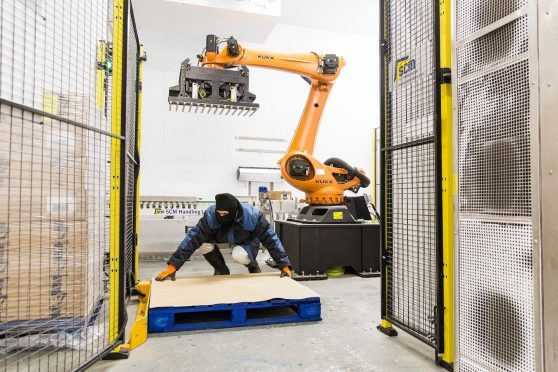 An Aberdeenshire firm's new recruit has to work long hours in sub-zero temperatures – but there is little chance of "Cookie" complaining.
Employees at food ingredient manufacturer Macphie gave the box-stacking technological wonder its name soon after it arrived at the company's headquarters at Glenbervie, near Stonehaven.
Scotland's first "Arctic robot" is part of a £1million-plus investment in new equipment by Macphie, whose products are used by bakers, chefs and food manufacturers around the world.
The futuristic machine operates at temperatures of minus 30 degrees Celsius in a factory which opened 18 months ago as an extension to Macphie's existing operations, producing cookie dough for a leading US ice-cream manufacturer.
Previously, all the boxes had to be moved by hand.
Macphie said yesterday it was keen to minimise the exposure of its regular workforce to severe temperatures.
The new automated assistant was made by Kuka, a German manufacturer of industrial robots.
It precision-builds pallets of boxes at the end of the packaging conveyor belt, helped by sensors to keep it fast, efficient and safe.
Three other robots have been installed at the factory, while Macphie's investment also includes a new bottling line and industrial bowl mixers.
Macphie managing director Andy Underwood said: "Innovation is the key to unlocking opportunities for growth in the food and drink sector.
"We have made this significant investment knowing technology can improve supply chain processes and make us more productive.
"The introduction of our Arctic robot has also allowed us to move workers into more skilled areas of the business and into higher-value jobs.
"So instead of building pallets of boxes, our employees are monitoring production line efficiencies and operating computer-controlled equipment."
He added: "It is part of Macphie's wider innovation agenda, which looks at using enhanced technology, collaboration with research centres and unlocking talent to drive business growth.
"These investment plans underline our ongoing commitment to both industry innovation and people development."
A spokeswoman for the firm said the new technology had not led to any "displacement of jobs".
Macphie employs more than 300 people across two sites; its headquarters on the 2,000-acre Glenbervie Estate and premises in Tannochside in North Lanarkshire.
The family-owned company – founded as a wholesale business in Glasgow in the 1920s – saw annual operating profits rise by nearly £1million to £4.6million last year as sales jumped by 7% to almost £48million.