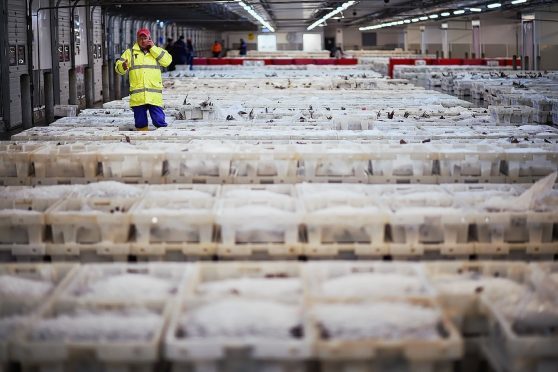 Peterhead is enjoying a bumper year for fish landings.
Figures for the first five months of 2017 show 71,473tonnes of fish and shellfish worth more than £75million came through the market.
In the same period last year, there were 66,756tonnes valued at £64.8million.
Peterhead Port Authority (PPA) bosses toasted a record-breaking year in 2016, and chief executive Ian Laidlaw said it was looking good for an even better 2017.
"These are tasty figures," he said yesterday, adding: "Landings are up 7.2% by tonnage and 19.5% by value on last year.
"The most important thing here is the value, with strong demand continuing to outstrip supply. There is room for more growth".
Just as well then, that PPA is building a bigger fish market and the recently completed outer frame shows the scale of it.
The project is part of a £50million redevelopment of the port and will add 50% more space, creating capacity for more than 9,000 boxes of seafood at a time.
Mr Laidlaw said haddock and squid were fetching as much as £5 and £11 per kilo (2.2lbs), at or near their records and highlighting current strong market prices.
He added: "The quality of the fish at the moment is second to none and we are managing the stocks well."
Recent supermarket listings for Marine Stewardship Council (MSC)-accredited North Sea haddock "show we must be doing something right," he said.
Meanwhile, North Sea cod is inching towards MSC accreditation – the ultimate test of responsible fishing – after a major effort to improve the stock by Scots' fishers.
It is believed the conservation body's seal of approval is imminent, which could lead to the fish going back on the menu for ethically-minded shoppers and diners who have avoided it for more than a decade because of overfishing concerns.
Cod stocks in the North Sea peaked at 270,000tonnes in the 1970s but the staple ingredient of fish and chip suppers south of the border had sunk to just 44,000tonnes by 2006.
A concerted effort by fishers has seen stocks rise again, reaching 149,000tonnes by 2015, through measures including net modifications and fishing ground closures to protect spawning females.
If MSC confirms that North Sea cod is now sustainable and well-managed, the popular fish will be allowed to carry its "blue tick" ecolabel for the first time.