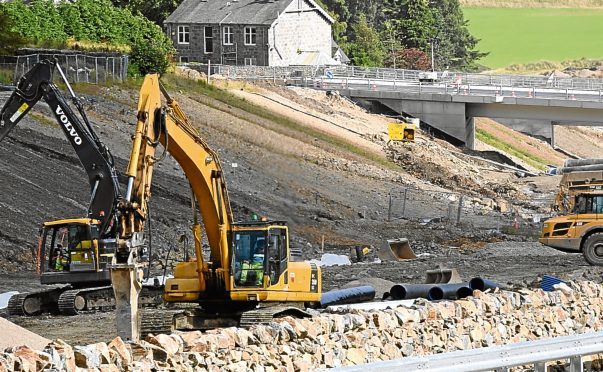 Calls are being made for the UK and Scottish Governments to bring contracts from crisis-hit construction giant Carillion back into public control amid fears it could "collapse".
The company is a major supplier to the Westminster and Scottish Government and has contracts in the rail industry, education and NHS as well as being a key player in the consortium for Aberdeen's multimillion-pound city bypass.
The firm met lenders to discuss options to reduce debts, recapitalise and restructure the group's balance sheet as it continues to struggle since reporting half-year losses of £1.15billion.
Last night Scottish Labour's shadow cabinet secretary for the economy, Jackie Baillie, said the Scottish Government needed to give reassurances over what would happen to the Aberdeen Western Peripheral Route (AWPR) if Carillion collapsed.
She said:"Carillion is a firm which has been awarded multimillion-pound public contracts and if it was to fail, could cause a huge crisis. We urgently need to know just how exposed the Scottish Government and the public purse is if Carillion were to collapse.
"In particular, we need to know that there is no threat to the cost and completion of the Aberdeen Western Peripheral Route, an issue I raised with the cabinet secretary and SFT months ago. The thousands of workers with Carillion and those in the supply chain servicing its contracts across the public sector will be desperately worried about the future and they too need to be reassured by the Scottish Government as a matter of urgency."
Shadow business secretary Rebecca Long-Bailey added: "The government who, despite warnings carried on with its programme of outsourcing public services to this company, must stand ready to bring these contracts back into public control, stabilise the situation and safeguard our public services."
A government spokeswoman said: "Carillion is a major supplier to the government, with a number of long-term contracts. We are committed to maintaining a healthy supplier market and work closely with our key suppliers. The company has kept us informed of the steps it is taking to restructure the business. We remain supportive of their ongoing discussions with their stakeholders and await future updates on their progress."
A Scottish Government spokesman added: "We continue to liaise with UK Government colleagues to monitor and mitigate service risks associated with Carillion's financial situation and stand ready to offer what assistance we can at this anxious time for the company's employees and their families."
A Transport Scotland spokesman said the firm had "no intention" of withdrawing from the Aberdeen city bypass road consortium as the £745million project nears completion. Carillion is part of the Aberdeen Roads consortium, alongside Galliford Try-owned Morrison Construction and Balfour Beatty.
Costs for the massive infrastructure project are believed to have rocketed well beyond the contract price, but at no extra cost to the taxpayer.