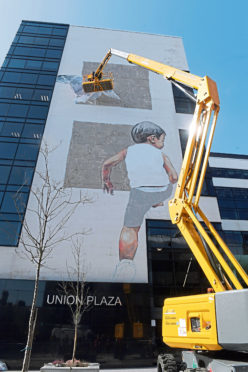 Martin Gilbert, co-CEO of Standard Life Aberdeen
Anyone who thought business premises were drab places would have been startled last month to visit our Aberdeen offices at Union Plaza where we share a building with Burness Paull, co-sponsors with Aberdeen Standard Investments of Nuart, the city's annual festival of street art.
In the words of Shona Byrne, festival project manager, describing the various venues featuring Nuart exhibits: "The one we're delighted with is Union Plaza, which is a huge modern office building, and the artist chosen for that location is Ernest Zacharevic who is a classically trained fine artist who chooses to work on the street."
Altogether, a dozen street artists contributed to this year's Nuart Aberdeen festival, including some from Argentina, Lithuania, Norway and Portugal. The Nuart festival of street art began in Stavanger in Norway in 2001 and Nuart Aberdeen is the only overseas version, launched last year.
Nuart Aberdeen is not just about painting on walls, it included a programme of talks, presentations, films, workshops and walking tours. The festival is jointly supported by Aberdeen Inspired, a business-led initiative within the city centre, and Aberdeen City Council which has committed to provide £300,000 in funding over the next three years.
Nuart represents another joint public/private sector venture in the north-east, operating in the community interest. Strong partnerships between business, the public sector and artists can successfully demonstrate a city's imaginative culture. Research by VisitScotland shows history and culture among the top three motivators for tourists coming to Scotland.
It makes sense for business to get behind the arts in a supportive role. The purpose of wealth creation is to improve our quality of life and culture plays a key role in enhancing our existence. It's also a two-way process. A community made vibrant by a flourishing arts presence will attract visitors and investment, creating jobs and regenerating areas from which traditional industries have departed.
I firmly believe an increased focus on cultural activity can play an important part in rebuilding the economy of the north-east. Recently I made the comparison between the experiences of Aberdeen and Folkestone on the Kent coast. Folkestone prospered from cross-Channel ferry traffic, but was hit hard when the Channel Tunnel opened. Now, however, the town is benefiting from cultural initiatives such as its triennial Art Without Walls festival.
Aberdeen, adversely affected by the slump in the oil industry, is taking a similarly joined-up approach to arts-led regeneration, as the success of the Nuart festival demonstrates. I'm pleased too that Aberdeen Standard Investments, along with BP, is sponsoring the transformation scheme for Aberdeen's Music Hall, built in 1822.
Business can – and should – make a real difference by supporting arts projects of proven worth that might not otherwise survive. A recent example was the initiative by Baillie Gifford and a few other corporate and individual donors that saved the Scottish Youth Theatre from closure through a match-funding deal with the Scottish Government. Also, at this year's Edinburgh International Festival, the Standard Life Aberdeen Opening Event on August 3, entitled Five Telegrams, will be a free outdoor digital performance celebrating Scotland's Year of Young People and reflecting on the centenary of the ending of the Great War, as a curtain raiser to this globally famous arts festival.
Private arts sponsorship is now big business. When the former Association for Business Sponsorship of the Arts (ABSA), later Arts & Business and now Arts & Culture at Business in the Community, first pioneered business sponsorship of the arts in the UK in 1976 it was worth £600,000; by 2009 that figure had grown to £686million.
But sponsorship isn't just about throwing cash at a project because it has obvious merits. It's important to get the right match, to enter into a relationship where the sponsor and the artists feel well suited and where there is a shared vision.
The Nuart festival certainly caught the imagination and plans are already afoot to increase its scale for next year. Art makes us better human beings – 83% of people claim the arts are important in their lives – so supporting cultural activities is a philanthropic contribution that not only helps to improve the quality of life for many, but also integrates business more closely with the communities it serves.