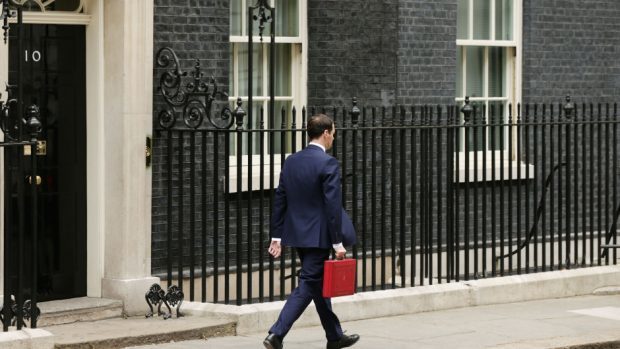 George Osborne blamed the "dangerous" global economic situation as he was forced to admit breaking one of his own key fiscal rules.
Delivering one of his most difficult Budgets yet, the Chancellor confirmed that debt will rise as a proportion of GDP this year.
However, he insisted the UK is "well placed" to handle the problems, and the pledge of eradicating the deficit would still be met by 2019-20 – thanks in part to another £3.5 billion of spending cuts.
The embarrassing admission came after Mr Osborne previously conceded that he had breached his own cap on welfare spending.
In a defiant speech to the Commons, the Chancellor insisted the government had kept UK plc "steady" by taking difficult action to bring the finances under control.
He also risked infuriating Tory backbenchers by using his platform to warn of the risks of leaving the European Union, saying the independent Office for Budget Responsibility (OBR) agreed with him that Brexit would generate significant "uncertainty"
In a sign of the scale of the turnaround, the OBR has revised down its UK growth estimates for this year from 2.4% to 2%, while next year it is expected to be 2.2% instead of 2.4%.
Mr Osborne said: "Britain is not immune to slowdowns and shocks. Nor as a nation are we powerless.
"We have a choice. We can choose to add to the risk and uncertainty, or we can be a force for stability.
"In this Budget we choose to put stability first. Britain can choose, as others are, short-term fixes and more stimulus. Or we can lead the world with long-term solutions to long-term problems.
"In this Budget we choose the long term. We choose to put the next generation first. Sound public finances to deliver security, lower taxes on business and enterprise to create jobs, reform to improve schools, investment to build homes and infrastructure – because we know that's the only way to deliver real opportunity and social mobility.
"And we know that the best way we can help working people is to help them to save and let them keep more of the money they earn."
Mr Osborne said despite the turbulence the government still expected to record a slightly larger surplus than previously predicted by 2019-20, at £10.4 billion.
He denied that the poorest and most vulnerable were bearing an unfair share of the burden, saying the richest 1% were contributing 28% of tax revenue.
"The independent statistics confirm that under this Prime Minister: child poverty is down; pensioner poverty is down; inequality is down; and the gender pay gap has never been smaller," he said.
The Chancellor announced a £12 billion crackdown on tax dodging, including moves to end the use of "personal service companies" by public sector employees to minimise their tax liabilities.
In the wake of the row over Google's tax bill, small businesses will be given help to overcome the "the great unfairness" they face competing against global giants like Amazon and eBay.
New actions will tackle overseas retailers who who store goods in Britain and sell them online without paying VAT.
Corporation tax will fall to 17% by 2020. The Chancellor also announced that he is permanently raising the threshold for small business rate relief from £6,000 to a maximum of £15,000 and for the higher rate from £18,000 to £51,000.
He said this would mean that, from April next year, 600,000 small businesses will pay no business rates at all, at an annual saving for them of up to nearly £6,000. A further quarter of a million businesses will see their rates cut.
A series of major infrastructure projects were outlined including the HS3 train project and Crossrail 2. And tolls on the Severn Crossings between England and Wales are to be halved by 2018.