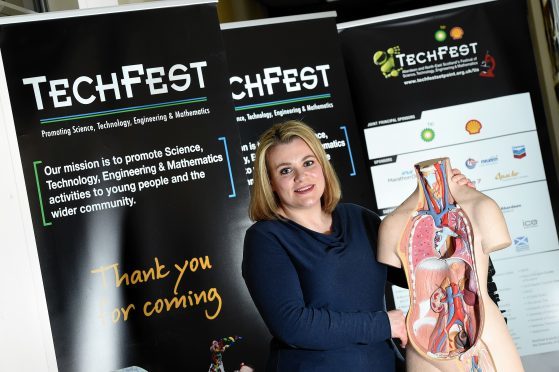 The race from the start of each year to its finish is a marathon and not a sprint for Sarah Chew.
The charity she has managed for about four years, TechFest, runs a cavalcade of events and programmes over the course of 12 months, all of which are geared towards getting children to take an interest in the Stem subjects – science, technology, engineering and maths.
And TechFest, founded nearly 40 years ago, is keeping up the momentum by targeting a doubling of the number of people who attend its events to 100,000.
Essex-born Ms Chew, 36, has picked up a wealth of experience of organising events, a process she enjoys.
Before joining TechFest as operations director in 2010, she had stints at the Rowett Institute, whose boffins can often be found at the Edinburgh International Science Festival, and her mother's company, Live Wire Productions, which educates children in sciences through theatre.
Ms Chew said: "I'm probably unique in that I love the whole process of organising events. I love hearing about what's needed and working out how to meet that need. I then go out finding partners and sponsors.
"I also enjoy working with everyone – participants, sponsors, presenters and venues. They all play a big role.
"We have such a big programme that time management is important and sometimes it takes a couple of goes to make the pieces of the jigsaw fit, but in the end everything comes together. A lot of it is just adrenaline."
Mother-of-one Ms Chew said she was motivated by a desire to support educators in giving children the same introduction to Stem she enjoyed.
She added: "I was lucky enough to have parents who could explain and engage with me on Stem subjects – I got a lot of inspiration from them. My mum had a good way of communicating Stem to me.
"I grew up in an imaginative world and the people I work with want to make sure everyone has the same opportunities we had."
The organisation's flagship event is an annual festival that takes place at the start of each new academic year in Aberdeen and attracts tens of thousands of people, and Ms Chew hopes it will be a bumper year this time round.
The itinerary of workshops, presentations and activities for this year's instalment is work in progress, but in a sneak preview Ms Chew revealed it will feature an appearance by Professor Robert Winston, the UK's best-known reproductive health expert.
TechFest, which is hosted by Aberdeen University at the Foresterhill Health Centre and has eight full-time staff members, is also launching a programme to teach young people the practical applications of maths in finance, such as dealing with debt, calculating mortgages and interest on credit cards.
Meanwhile, long-established TechFest projects like Stem in the Pipeline and Heroes of Tomorrow continue to grow in popularity.
Stem in the Pipeline sees schoolchildren gain an insight into the oil and gas industry by completing tasks which test their Stem skills, with the help of mentors.
Heroes of Tomorrow requires secondary school pupils from S1-S6 give short presentations to their families and peers on Stem topics which interest them.
Ms Chew believes these schemes are creating a legacy of strong Stem skills among people in the north-east, and has no truck with reports which emerge periodically condemning younger generations for a lack of maths skills.
She said: "Parents who come to us with their children talk about having done TechFest programmes when they were at school. We also get volunteers from industry who did Stem in the Pipeline and are now giving up their time to help out.
"Our rich history is quadrupling the effect of what we're able to do now – people who have benefited from it before are giving something back."
She added: "For every story about young people lacking maths skills, there are many more about kids excelling and doing amazing things. The projects they produce are incredible.
"Some kids produced a field development programme for Stem in the Pipeline and one of the volunteers from the Society of Petroleum Engineers said he had done the same project at MBA level, but that the kids had done it better.
"It blows my mind. We can't underestimate what these kids are going to achieve – they might cure cancer, for example.
"TechFest has an opportunity to keep giving them what they need. They're like birds in a nest and we need to just keep feeding them.
"They're under a lot of pressure these days and we need to motivate them to get to the finishing line."