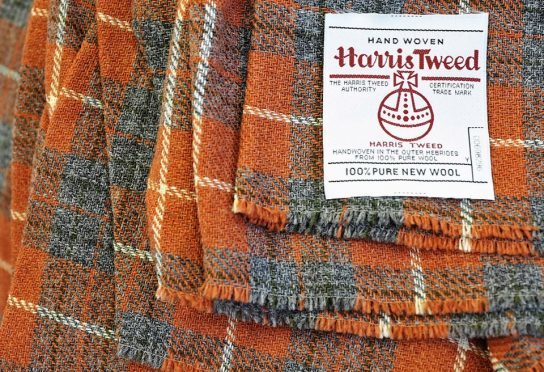 The largest producer of the iconic tweed made exclusively in the Hebrides nearly doubled its profits last year as expansion of its facilities on the Isle of Lewis allowed it to meet strong demand for the fabric worldwide.
Harris Tweed Hebrides enjoyed continuing demand from the luxury end of the market with customers including Chanel, Dolce and Gabbana and Ermenegildo Zegna. But the firm also found favour with firms targeting high street fashion such as online sales giant Asos, as well as buyers in furniture and accessories.
The company is also in the midst of a £2million expansion. Already a new dye house has been built at the factory site at Shawbost and
further investment will see the expansion of warehouse facilities and equipment.
The region's famously self-employed weavers have also had a talent injection as people formerly employed in the oil and gas industry return to more traditional employment. Harris Tweed Hebrides, which employs 85 members of staff, relies on around 130 self-employed weavers working from their homes on Lewis, Harris, Uist and Barra.
Brian Wilson, former energy minister and chairman of the firm, said: "More weavers have come over the past months due to the North Sea downturn.
"You get guys who have been working offshore who come home and need work. The skills tend to be inherited."
He said hailed a "great effort from the mill workers and the weavers" in 2015 to meet strong demand, adding:
"We had a very good start to 2016 so we hope we can maintain that.
"We have been incredibly fortunate we have had a very sustained spell of growth. It does tend to go in cycles. We have done our best to even out the cycles by expanding into interiors and accessories.
"We hope that even if fashion turns we have a solid business elsewhere."
Turnover and the Shawbost-based firm grew 14%, breaking through into seven figures £10.9million in the year to the end of 2015, according to accounts filed at Companies House. Pre-tax profits came in at £2.2million – up from £1.1million in the prior year.
Sales declined slightly in the UK – down 3% to £4.69million. But sales to Asia rose strongly – up 56% to £4.72million.
Harris Tweed Hebrides is controlled by majority shareholder, Ian Taylor, the chief executive of international oil trader Vitol.
Harris Tweed is hand-woven only by the islanders of Lewis, Harris, Uist and Barra in their own homes using pure virgin wool that has been dyed and spun in the Outer Hebrides.
The cloth is certified by the Harris Tweed Authority and bears the famous Orb symbol which means it is genuine Harris Tweed.