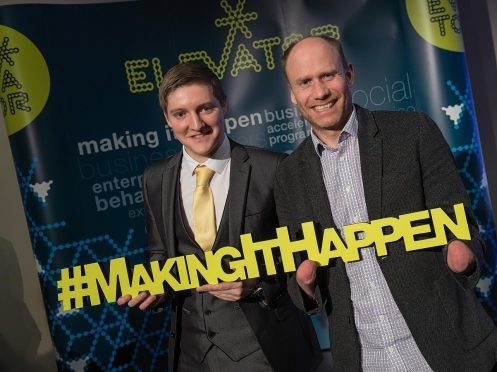 Up to 700 people attended a conference aimed at aspiring entrepreneurs, business owners and future leaders in Aberdeen yesterday.
The event, the sixth annual Making it Happen conference, had sold out in "record time", according to organisers Elevator, which delivers the Business Gateway programme and works across Grampian and Tayside to help facilitate the start-up and growth of new and existing businesses.
Michael Harkins, the founder of Turtle Pack, won the "Pitch It" competition and £250 towards the development of his business idea, in invention to help children learn how to swim.
He emerged as the winner of five finalists, who presented their business ideas on stage in front of a live audience, as well as a panel of judges.
Inspirational Scottish mountaineer and quadruple amputee Jamie Andrew was the main speaker at the conference. Mr Andrew, who lost his hands and feet in a tragic accident in the French Alps in 1999,has since gone on to climb Ben Nevis, run the London Marathon and scale Kilimanjaro. He also made history last year when he became the first quadruple amputee to climb The Matterhorn.
Another eight speakers, all of whom have either launched their own enterprises or overcome significant obstacles, included host Dee Bleakley and local entrepreneurs Craig Buchan of QPal, Tom and Alice McAra of Rebel PT and Lucy Tuck of Definition Clinic.
Elevator Chief Executive Gary McEwan said: "In my experience, there is a moment in time, even for 'born entrepreneurs', when they decide 'this is my moment' a flash of inspiration or opportunity, which they seize and nurture. The pieces are falling into place and they just require that final shot of inspiration to bring the plan to life and make it happen.
"This often comes from the inspiration we draw from the experiences of others, no different from us but who have created something wonderful from virtually nothing.
"It is fantastic to see the event 'sell out' quicker than ever before, a sign of an appetite for inspiration in the local region."