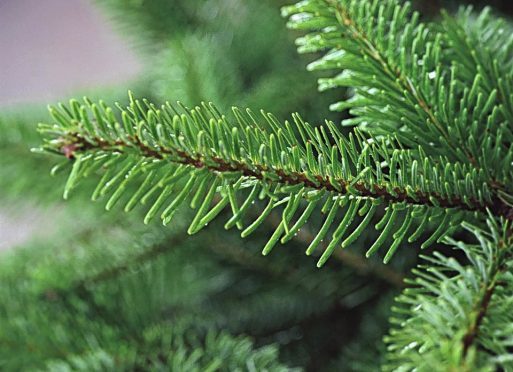 As she strolls around her official residence at Bute House in Edinburgh during the run-up to Christmas, First Minister Nicola Sturgeon will be greeted by the sight of two Norway spruce trees, grown by Highfield Forestry at Beauly, near Inverness.
After the festive decorations were delivered to her Charlotte Square address, Sturgeon urged Scots to purchase a Scottish-grown tree this year.
"It would be fantastic if as many people as possible bought a Scottish-grown tree this Christmas," she says. "The Scottish Government is committed to supporting the continued growth of the sector so I'm delighted to have home-grown trees in Bute House again this Christmas."
Iain Peddie, one of the three directors who run Highfield Forestry, adds: "It's an honour for our small business to have been asked to supply these trees to Bute House. It's a busy time of year for Highfield as we supply around 5,000 Christmas trees from three sites."
In between meetings and phone calls, the pair of trees will act as a reminder to the First Minister of the important role that forestry plays in the Scottish economy. Forestry already contributes £1billion to Scotland's economic output and supports around 25,000 jobs; industry leaders now want to see revenues from the forestry and wood processing sector hit £2billion during the 2020s.
And those figures don't even include Christmas trees. Due to the finickity nature of economic statistics, Christmas tree growing is listed as "horticulture" instead of "forestry" due to its very specialised nature.
The British Christmas Tree Growers' Association (BCTGA) estimates that up to eight million Christmas trees are grown in the UK each year, with around half of that total being harvested in Scotland. Even at a modest average price of £45 per tree, that means Scotland sells around £135million worth of Christmas trees each year say the experts.
While the First Ministers admires her baubles, Dan Cadle, a recreation forester at Forestry Commission Scotland's Tyrebagger site near Aberdeen, is also getting ready for Christmas. Tyrebagger has been at the heart of the Granite City's Christmas preparations since the early 1970s.
"A lot of our customers come back to us year after year," explains Mr Cadle. "A trip with their family to Tyrebagger to pick their tree marks the start of Christmas for many of them."
Tyrebagger sells around 6,500 trees each Christmas, around half of Forestry Commission Scotland's national total. Between 4,000 and 5,000 of the trees will be Nordmann firs, a very popular species renowned for hanging onto its needles, while a further thousand will be bushier and branchier Lodgepole pines, which are a more unusual variety not normally found at garden centres and supermarkets.
"We'll also sell about 500 or 600 Norway spruces, which were the traditional choice for the Christmas tree but which are less popular now," Mr Cadle says. "They can keep their needles quite well, but they need more tender loving care than the more modern varieties, with lots of water and a cooler room.
"People's houses are far warmer now with central heating than they were 40 years ago and people start celebrating a lot earlier too, with people putting up their trees at the end of November or start of December instead of just a few days before Christmas."
All the Norway Spruce trees sold at Tyrebagger are grown on the site, while the Nordmann firs and Lodgepole pines are brought in from woods in the Central Belt and Perthshire. Mr Cadle says all the farmers are members of the BCTGA.
"We sell Christmas trees because it's a great way of getting people to come and spend time in the woods," he adds. "Visiting a forest is great for your physical and mental health and during December we can welcome 20,000 people from Aberdeen into the woods."
The distinction between forestry and horticulture is one that raises a chuckle from Stuart Goodall, the chief executive at the Confederation of Forest Industries, the UK-wide trade body better known as Confor. Half of Confor's 1,800 British members are based in Scotland, a fact that emphasises the importance of forestry north of the Border.
"Christmas trees and ordinary trees are only seen as different kinds of forestry in the minds of civil servants who like to classify things but, in the minds of the forestry sector and the average person on the street, a tree is a tree is a tree," smiles Mr Goodall. "Just because they may be felled when they're 10 or 15 feet tall rather than when they're 40 feet tall is not a big issue for us – at the end of the day, we work with trees.
"A lot of forestry businesses aren't just doing one thing – they aren't just growing forests, or growing Christmas trees or providing advice. They undertake a variety of services and activities relating to forestry and so Christmas trees are an obvious opportunity to gain extra income.
"The majority of Christmas trees are grown together in a field, but some are also planted as what we call a nursery crop in broader commercial forestry. Those Christmas trees are planted to protect the main crop of trees from the wind and the cold when they're small.
"You can harvest those Christmas trees when they get to the right age and then the trees they've been sheltering are hardy enough and have grown better. It's another reason why looking at Christmas trees as horticulture instead of forestry is a bit of an artificial barrier."
Mr Goodall points to the benefits that the wider forestry industry brings to the economy; as well as planting, managing and harvesting trees, the sector supports companies that transport the logs and then the merchants and retailers that sell the timber. He also highlights the roles played by sawmills, housebuilders and construction companies.
"All of the tree is used," he explains. "In the sawmill, you create cubes out of a cylinder – the rest of the tree then ends up in different places, nothing goes to waste.
"The offcuts could go to a panel factory that makes skirting boards or kitchen cabinet doors or tables, or they could be turned into pellets for the energy industry to heat houses, offices or other buildings. Now that we have a mature forestry sector, we're seeing the huge number of stages and jobs and added-value points in the supply chain, which are providing so much income."
While the First Minister is calling on Scots to buy home-grown Christmas trees this year, Mr Goodall would like to see more businesses purchasing Scottish timber too. He says some manufacturers of timber-frame houses are still using imported wood and also highlights the opportunities for timber products to replace steel in some construction projects, such as the beams for the roofs of supermarkets and entire panel walls.
"We're going to have good availability of forestry for timber over the next 15 to 20 years thanks to the trees that were planted in the last century, but then there's a gap on the horizon between 30 and 40 years away," adds Mr Goodall. "Confor's Christmas message this year is that we want people to sit looking at their Christmas trees and remember that Scotland needs to plant more trees in the year ahead."
Once the crackers have been pulled and the turkey has been trimmed, the massive Christmas clean-up operation swings into action. By the time Epiphany rolls around on 6 January, most trees will be looking a bit sad and sorry for themselves.
Yet as the memory of Christmas begins to fade for households across the North of Scotland, one company is just getting started with its festive activities. Keenan Recycling, a family business set up in 2001, handles food and garden waste from homes and businesses on its site at New Deer near Turriff, where it turns organic waste into a fertiliser that's used on the local fields.
"The facility processes around 70,000 tonnes per annum, much of which is from households in Aberdeen, Aberdeenshire, Highland and Moray," explains Gregor Keenan, one of the company's directors.
"The food waste we process is a combination of leftovers and waste that arises during preparation such as vegetable peelings. During the festive period, we see an increase in our tonnages as activity increases in restaurants and household kitchens alike.
"In January we begin to process all of the Christmas trees collected by the local authorities or taken by householders to their local recycling centres. We recycle approximately 30 tonnes of Christmas trees every year.
"The trees are shredded, mixed in with other organic materials and composted. Naturally-occurring microbes thrive in this mixture and break down the material.
"The process takes a minimum of eight weeks from start to finish and results in a rich organic soil improver that local farmers use, allowing them to reduce the levels chemical fertilisers."
Prior to Keenan Recycling's operation, this organic waste would have gone to landfill where it would generate gases detrimental to the environment and responsible for climate change.
"It's great to see this now being used to improve Scotland's soils instead."