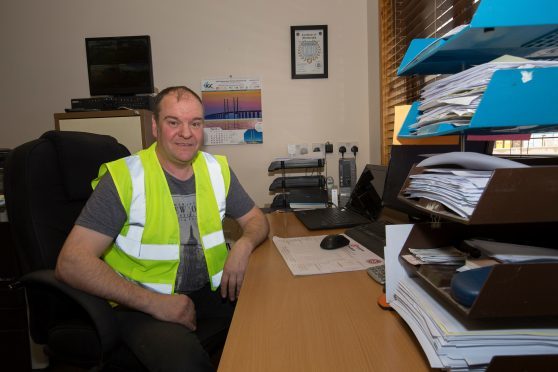 Each week, we ask small businesses key questions.
Here we speak to Gavin Sinclair, managing director of Halkirk firm Norbloc Construction
How and why did you start in business?
I was born and raised in Thurso and left school at 15 to become an apprentice joiner with Murray Macleod Joinery in Calder, near Halkirk.
After I finished my time I continued working for them for another two years before moving to London, where I worked as a shopfitter in Oxford Street for a short time.
I suppose I was attracted by the bright lights of the city and the chance to experience life away from Caithness.
I then left London to return home but only for two weeks; the all-day light of Shetland beckoned. There was a lot of construction going on in 1989 – and plenty of work for people with my skills.
I went to Shetland planning to stay for six weeks and ended up staying 15 years, working for two major construction companies. My cousin, Johnny Omand, followed me there and we worked together for most of that time.
In 2004, I decided to return home to Caithness to be closer to my family. I also felt the time was right to set up in business for myself and had a plan to manufacture building blocks from crushed glass.
Unfortunately, the manufacturing costs were much higher than in Shetland and, while the technology was spot on, it was not economic.
I reverted to joinery, setting up as a sole-trader under the name Norbloc Construction. My first contract was putting skirting and facings on my uncle's house in Thurso. The rest as they say is history.
Johnny joined me in Norbloc and is still with me 12 years later.
How did you get to where you are today?
The business has grown to employ 30 people and become a limited company. We provide all trades services, including joinery, bricklaying, painting, machine operators, tiling, plastering, scaffold services, roof work and groundworks.
I'm delighted to say that our reputation for "getting the job done well" has spread both across the north of Scotland and across all types of operation.
We aim to provide top quality workmanship and excellent value for money, while retaining a skilled and motivated workforce.
Norbloc Construction also provides apprenticeship opportunities, and we currently employ apprentice joiners, bricklayers and painters.
Who helped you?
When I worked in Shetland I was given every encouragement, and I gained lots of really valuable experience from the many and varied contracts that I managed. That's where I acquired the experience and skills that are so important to my business today.
I have also been advised and supported by the Federation of Small Businesses, the go-to organisation when things go wrong – or right. They have member services for every eventuality.
The Construction Industry Training Board has also provided financial contributions to our training and apprenticeship programmes.
Last, but not least, my family have supported me throughout, and that really matters.
What has been your biggest mistake?
Hindsight is a great thing but maybe I could have taken the first step and started my own company a bit sooner.
What was your greatest achievement?
Winning the Caithness county league under 12s football in 1978 was amazing. After that it has to be growing Norbloc to where it is today in 12 short years and providing employment for 30 people. Also, we have just been awarded ISO9001 accreditation and we see this as a big step forward when tendering for work.
If you were in power in government, what would you change?
I would bring back prescription charges and plough the money back into the NHS in Scotland.
What do you still hope to achieve?
I have ambitious plans to expand into new markets and invest in new opportunities.
What do you do to relax?
I watch TV – mainly sport and a bit of drama – but otherwise it's walking the dog and spending time with the family – my partner, Trish, and stepchildren, Lucy and Tom. Lucy married Liam last year and we have a grandson, Cameron, who keeps us on our toes.
What are you currently reading, listening to or glued to on the TV?
I only read papers and magazines, not books. Currently we are getting through all the Spooks series on TV. I really enjoy that type of suspense programme.
What do you waste your money on?
Football coupons and the odd horse on a Saturday.
How would your friends describe you?
Hard-working, calm and level-headed, with a good sense of humour.
What would your enemies say about you?
I try not to make any enemies but if I have any, it would be their words against mine.
What do you drive and dream of driving?
In addition to all the work vehicles and machines, I drive a Toyota Hilux and Jaguar R-Sport. I dream of owning a Triumph Stag one day, maybe as a retirement gift to myself.