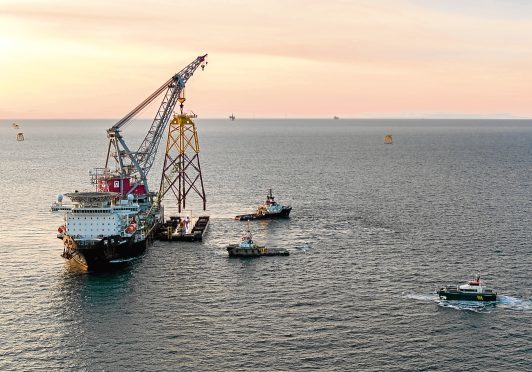 Construction of the £2.6billion Beatrice windfarm, in the Outer Moray Firth, is powering ahead towards a goal of generating its first electricity this summer, the development's project manager has said.
Following a year of preparatory work offshore and on land in Caithness and Moray, Steve Wilson, of energy giant SSE, described the planned switch-on as the project's biggest milestone of this year on its way to becoming operational in 2019.
After a final investment decision in 2016, the project "really started to come to life" last year, Mr Wilson said.
In the past 12 months, the Beatrice project team has installed all offshore pile clusters required for the 84 turbines and transformer modules, more than one-third of jacket substructures and in excess of 37 miles of subsea cabling.
At Blackhillock, near Keith, in Moray, building work on a new substation has moved from the civil construction phase to the installation of the electrical and mechanical infrastructure that will form the two circuits of the windfarm's transmission system.
In Wick, the first phase of renovation works has been completed on historic buildings, originally developed by renowned Scottish engineer Thomas Telford, that will house the project's long-term operations and maintenance base.
Work has also started on renovating a disused part of the Caithness town's harbour in readiness for the arrival of the crew transfer vessels which will service the windfarm once it is operational.
Mr Wilson said: "The team is now focused on preparing for what will be the biggest milestone of 2018 – the first generation of renewable electricity from the windfarm.
"Expected in July 2018, the generation of first electricity is the fruition of the hard work of thousands of people and many thousands of man hours, and is the first step on the windfarm's final journey towards completion in 2019.
"But, there remains a lot to do before then; commissioning the Blackhillock substation, completing the subsea and onshore cabling, energising the transmission system, completing jacket installation and erecting the first of the 84 turbines."
Offshore construction activity for the project has brought a boost for the Port of Cromarty Firth, with jacket substructures being loaded out from Invergordon to Seaway Heavy Lifting's Stanislav Yudin and Oleg Strashnov vessels.
Facilities at Nigg Energy Park will be used for major marshalling and construction works.
Siemens, which is supplying the wind turbines and grid connections for Beatrice, awarded the contract to Nigg's owners, Inverness-based Global Energy Group, with work expected to start this spring. Blades for the turbines are being manufactured at Siemens' Hull site.
Mr Wilson also expressed SSE's thanks to people in Wick for their "patience, goodwill and support" during work in the area.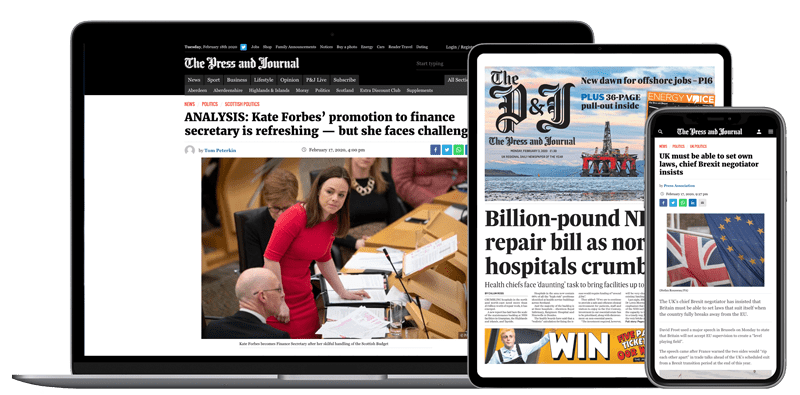 Help support quality local journalism … become a digital subscriber to The Press and Journal
For as little as £5.99 a month you can access all of our content, including Premium articles.
Subscribe