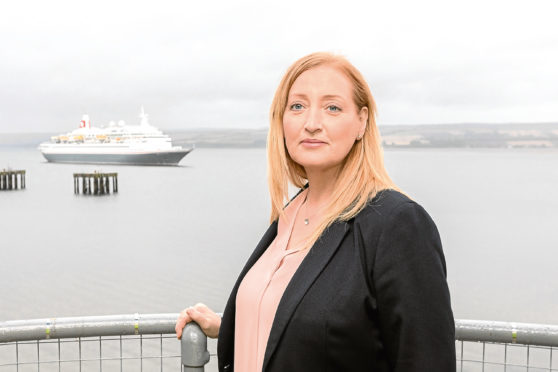 Around 20,000 more people are expected to arrive in Invergordon aboard cruise ships this year than in 2017, with a record 92 vessels heading for the Easter Ross town.
According to the Port of Cromarty Firth (PCF), which is responsible for the liner business in the area, an estimated total of 170,000 passengers will bring a £17million boost to the Highland economy.
The latest season, which gets under way on March 27 with the arrival of the AIDVita, carrying 1,200 holidaymakers, is the 40th for the port and the first for recently appointed PCF cruise manager Allison McGuire.
Ms McGuire said: "We have seen a steady increase in the number of cruise passengers visiting Invergordon over the years and 2018 will be no exception. 2017 was an extraordinary year, with passengers and ship numbers up by over 50%.This year we will continue to see some of the world's largest cruise ships coming into the port, taking advantage of the deep water we have to offer.
"This is really good news for businesses across the Highlands and I look forward to welcoming new and returning vessels into the port over the coming months in my first season in the job."
A dozen new cruise ships will sail into Invergordon this year, including MSC Cruises' MSC Meraviglia, which carries 4,500 passengers. The final visit of 2018 will be by the Albatros, in September, with 800 people aboard.
VisitScotland regional partnerships director Chris Taylor said: "Scotland's cruise ship boom is hugely significant to our tourism industry and our economy – attracting visitors, which in turn contribute to the economy and help to create jobs and sustain communities.
"VisitScotland are working with port operators, local authorities and with industry partners to help provide a wide range of experiences for our cruise visitors to make sure they have a great stay and are encouraged to return.
"The Highlands and islands are among the most popular cruise destinations in Scotland, with visitors from all over the world looking to explore our rich history and diverse culture. The increase in cruise liner calls will bring a welcome economic boost to these areas. However, we need to ensure this not only generates economic growth and increases global awareness but also manages environmental and social impacts."