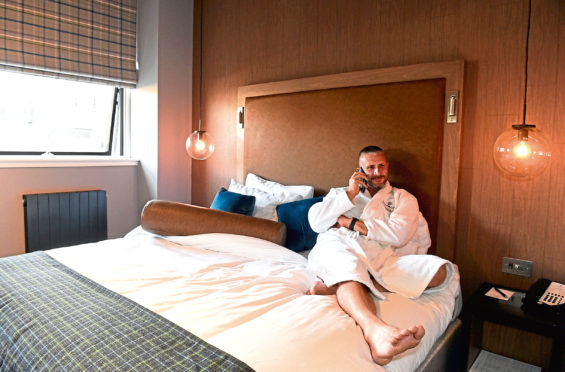 Hotels in and around Aberdeen are showing signs of recovery after the impact of the 2014 oil price slump but their occupancy rates still lag most of the rest of the UK, a study has found.
According to the latest UK Hotels Forecast report from professional services firm PwC, the average daily rate paid per room fell by 3.1%, to £56.14 during the year to December 31 2018.
But a 4.4% year-on-year increase in the occupancy rate to 64.8% pushed benchmark revenue per available room (revpar) up by 1.1% to £36.36.
Aberdeen remained the lowest of the 22 UK cities studied by PwC, which said the closure in January of the 50-bedroom Highland Hotel, on Crown Street, left the city and its environs with 136 hotels offering 7,030 rooms – down 2.1% on a year ago.
But the recent opening of the Sandman Signature Aberdeen Hotel and plans to develop a former hospital site at Woolmanhill highlight a "willingness among investors", PwC said.
Kevin Reynard, senior office partner for PwC in Aberdeen, said: "The stability that Aberdeen and the surrounding area craves is returning, of that there is no doubt.
"With less people required in Aberdeen on oil and gas business, it follows that hoteliers will face challenges and while these remain it is encouraging to see an increase in repvar."
He added: "The Aberdeen harbour expansion is also likely to have a positive impact on the city, with cruise ships set to arrive from 2020, while the opening of The Event Complex Aberdeen in the summer will increase demand for hotel rooms."
PwC said the cost of staying overnight in Glasgow grew by more than 3.5 times the national average last year, while Edinburgh remained largely static.
Glasgow's hotel sector was the fastest growing in the UK when measured by average daily revenue (ADR), with its 6.1% growth to £76.52 over the 11 months to December, well ahead of the national average of 1.7%, while revpar grew by 4.4% to £61.77. Occupancy rates in Glasgow slipped 1.7% to 80.7%, largely due to the opening of almost 1,000 new rooms.
Edinburgh remained the most expensive place to spend the night in the UK outside of London, at £103.72, up 0.5% from the previous period. But a lower occupancy rate, 82.9% from 83.6%, meantrevpar slid by 0.3% to £86.04.