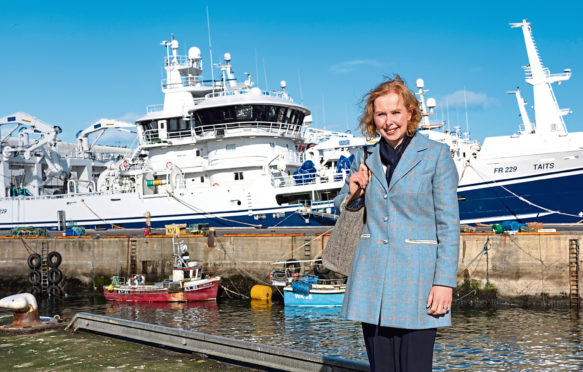 The woman now at the helm of the Scottish Fishermen's Federation (SFF) has said the industry is at a "pivotal" point, with the looming Brexit deadline dictating the UK's role in crunch end-of-year quota talks.
Elspeth Macdonald is just two months into the job of SFF chief executive, having taken over from Bertie Armstrong early in August.
But the next few months will see her lead the organisation through the biggest change affecting the Scottish fleet since Britain joined the European Economic Community in 1973.
Depending on how the next few weeks play out, the UK will be going into end-of year negotiations over the 2020 catch rules either as a temporary non-voting partner of the EU's Common Fisheries Policy (CFP), an independent coastal state or, under any agreement to extend the Brexit deadline beyond October 31, still a fully-fledged member of the EU.
Ms Macdonald was non-committal on which of these scenarios is the industry's preferred choice.
But she stood by her predecessor's oft-repeated mantra that leaving the CFP and becoming an independent coastal state is vital to opening up a "sea of opportunity" in Scottish waters.
Outling her priorities as SFF CEO, she said: "Foremost in everybody's minds is the situation with regards to Brexit. Bertie was always very active in making the case for fishing and where there is a sea of opportunity.
"As we move towards the next phase, it is important that I continue to use my influence in the right places and at the right time to make sure people realise those benefits.
"What we do know is that 60% of the fish caught in our waters is not caught by the UK fleet.
"We now have an opportunity to redress that balance and catch more of the fish that are zonally attached to UK waters."
If a Brexit deal is struck in time for Britain to quit the EU on October 31, the UK will likely still be locked into the CFP during an implementation period lasting to the end of 2020.