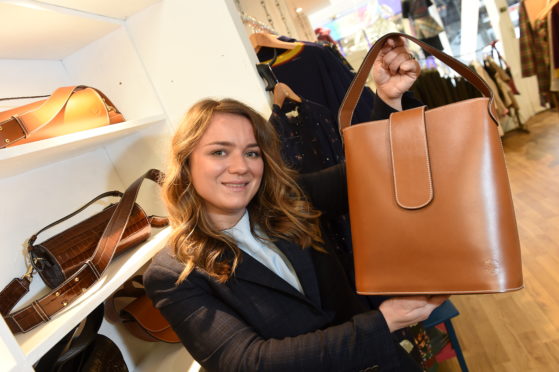 An award-winning designer is looking forward to seeing her creations hit more shops across Europe, New York and London this year.
Cathleen Nicol never expected her PR career to divert into handbag making, far less in the Middle East.
During a stint in Dubai with her husband and three children, the 36-year-old won a competition to study handbag design at the London College of Fashion's Dubai campus.
She combined that with a fashion business course, and went on to launch her first handbags to the online market in 2015.
A year later, she took home a coveted design prize at the International Handbag Design Awards in New York for best 'resort style' bag.
The business C.Nicol has now already garnered some high-profile clients, and expects her turnover to grow by 200% this year.
Her creations are often seen in Vogue and Harper's Bazaar, and on social media platforms like Instagram where tennis player Johanna Konte was recently pictured with one of her little black numbers.
Now back home and living in Grantown on Spey, Ms Nicol said it is easier to focus on the Scottish heritage and identity of her brand.
She said: "The lining for the 2019 bags was designed by Inverness-based Gray's School of Art graduate, Colin Dunphy of Apollo Illustration.
"I'm experimenting with Knockando Woolmill, one of the oldest in Scotland, to create a handbag out of tweed.
"Reds, blues and oranges are the colours for next season, so I'm looking at incorporating those in the tweed, not forgetting the timeless, classic colours."
Ms Nicol admitted she is thrilled that there is a market for her bags in the Highland capital.
She said: "They are placed in the new Scottish designers floor at Maggie and Suzi, and sell amazingly well.
"A strong, well-made handbag gives you confidence when you're going out, very important to women in business."