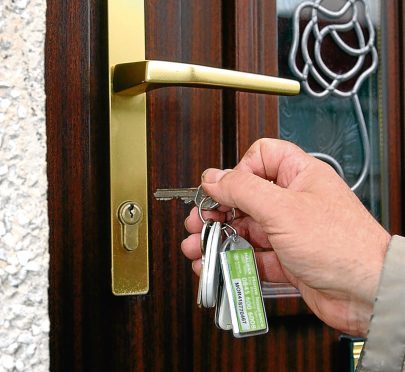 Airbnb hosts in Scotland together pocketed £86million during the year to July as the number of guests using the holiday home website for UK bookings surged 81%.
A report by the US-based company shows UK hosts welcomed around 5.9million guests between July 2016 and July 2017, helping the typical host earn about £3,000 per year.
A growing number of these guests were from other parts of the UK, highlighting the rising popularity of so-called staycations after the pound's collapse made foreign trips more expensive.
Airbnb said 53% of its UK customers travelled domestically during the year to July, taking advantage of 168,000 listings across the country.
Around 76% of hosts are renting out their primary home, with the average age around 43. Women made up about 62% of UK hosts.
About 55% of hosts rent out their entire homes, while 44% offer a private room and 1% list a shared room for visitors, suggesting hosts may be looking to make use of a spare room "without committing to a full-time lodger".
Airbnb said its site was an "easy and flexible source of income" for UK homeowners.
But the report also found that around 4% of hosts are using the platform to avoid eviction or foreclosure on their homes.
Critics have pointed to the negative effects the short-term rental company has had on some neighbourhoods, driving up house prices and exacerbating housing crunches in major cities like London, Paris, New York and Vancouver as landlords opt for more lucrative Airbnb lettings over long-term tenants.
It has even caused authorities to consider new regulations, including in London.
There is now a 90-day annual limit for short-term lettings in the capital, with extensions requiring special permits.
Airbnb has tried to shift focus to the economic benefits of the platform, saying spending in local communities by Airbnb guests contributed £3.46billion to the UK economy during the year to July.
It found that the average Airbnb guest spends about £147 in the UK every day of their stay, with 43% of the total benefiting the local neighbourhood through purchases of groceries, shopping, food and transport.
The report also highlighted regional success stories within a £657million earnings total for the UK.
These included Scotland's £86million figure and Yorkshire/Humber, where hosts earned £14million. Hosts in England's East Midlands earned £8million and the figure in Wales was £19million.
James McClure, Airbnb's general manager for northern Europe, said: "The UK continues to break records on Airbnb – both as a world-leading destination, and for the benefits that hosting generates for local families and their communities. Hosts are ambassadors for their neighbourhoods and we look forward to seeing guests discover more unique, diverse and welcoming communities across the UK."
Scottish host earnings have more than doubled in a year, with numbers boosted by customers choosing from properties ranging from castles to period flats to boost visitor numbers, according to Airbnb's first UK Insights Report.
The typical Scottish host earns £3,600 a year from renting out space, hosting 38 nights a year for a listing. More than half of their guests (56%) during the year to July were international travellers discovering Scotland.
But Scottish Airbnb customers still represented the highest proportion of UK guests who chose to stay within their own region.
The online platform connects visitors with accommodation around the world in more than 65,000 cities and in excess of 191 countries.
Founded in August 2008 by Joe Gebbia, Brian Chesky and Nathan Blecharczyk and based in San Francisco, California, Airbnb boasts more than 200million customers around the world.
It currently has 21,900 Scottish listings, including three which are among the UK's top 10 "wish-listed" properties – Dairsie Castle in Fife, The Gatehouse to Ayton Castle in Eyemouth and a period flat in Edinburgh.
Airbnb has estimated that hosts and guests generated around £499million in economic activity throughout Scotland between July 1, 2016 and July 1 this year.