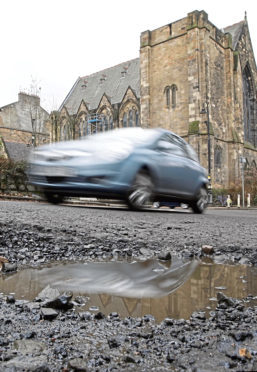 The AA has called the number of potholes around the UK a "national disgrace" after finding massive car repair bills are costing drivers and insurers at least £1 million a month.
Describing the problem as an "epidemic", the motoring organisation said the number of pothole-related claims it had seen during the first four months of 2018 alone was more than for the whole of 2017.
It also urged the UK Government to fund a war on potholes by ring-fencing part of fuel duty to create a £1 billion fund to tackle the issue.
Based on its share of Britain's car insurance market, the AA estimated that nationally there will have been more than 4,200 claims for pothole damage so far this year.
This is compared with an estimated total of just over 3,500 for the whole of last year.
And with an estimated average repair bill of around £1,000, the total this year so far comes to "an eye-watering" £4.2 million, or more than £1 million per month, where drivers consider they have no option but to make an insurance claim, the AA said.
AA insurance director Janet Connor said: "Drivers are hitting potholes and ruining their suspension, steering and the underbody of their car, or breaking axles and, occasionally, being knocked off course and hitting other vehicles, kerbs or a lamp-post.
"We are seeing a growing number of pothole claims described as 'car severely damaged and un-driveable' which didn't happen at all last year.
"The pothole epidemic has become nothing short of a national disgrace."
The AA said a survey of more than 17,000 people had found 88% of drivers think roads are in a worse state now than 10 years ago.
Ms Connor added: "Council budgets have been squeezed to the extent that competing priorities mean they don't have the resources to keep their roads up to scratch. Our nation's highways have become a national embarrassment."
The AA has launched a social media campaign to highlight what it says is a need "to invest in reversing the shocking deterioration of Britain's roads".
Drivers' pothole woes have included a crater so deep it grounded a car, leaving it stuck, and a pothole lurking under a puddle which broke another car's steering.
Ms Connor said: "I would call on drivers to safely photograph the potholes they encounter and send them to the responsible authority."