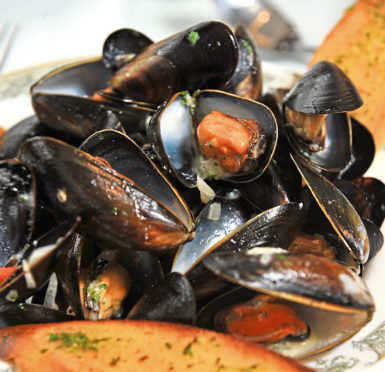 Scottish mussel growers achieved a bumper harvest during 2017, official figures show.
The Scottish Government said production "for the table" increased by 6% last year, to a record 8,232 tonnes as seafood lovers clamoured for more of the bivalve molluscs.
Scotland's shellfish farming industry is now estimated to be worth about £12.4 million at first sale value, an increase of 6% on a year ago, with mussels making up more than 81% of the total.
The greatest contribution in regional mussel production was from Shetland, accounting for 6,647 tonnes or 81% of Scotland's total.
There was a 69% increase in the production of mussels for on-growing in 2017, which Marine Scotland said was largely due to increased exports of part-grown mussels to Northern Ireland and the Republic of Ireland.
Pacific oyster production increased by 42% from 2016, with more than 5 million harvested for the table last year.
Queen scallop production was up by 76%, to 273,000, while farmed scallop production grew by 34% to 47,000.
There was a slight drop in the production of native oysters to 200,000 shells in 2017, from 201,000 a year earlier, but Marine Scotland said there was still a strong niche market.
Employment in shellfish production rose by 4% last year, with 328 full, part-time and casual staff working in the sector.
Rural economy secretary Fergus Ewing said: "The sector is now worth £12.4m, an increase of £3.5m since 2013, which is great news for our shellfish growers and those in the supply and processing sector who rely on this world-class produce."