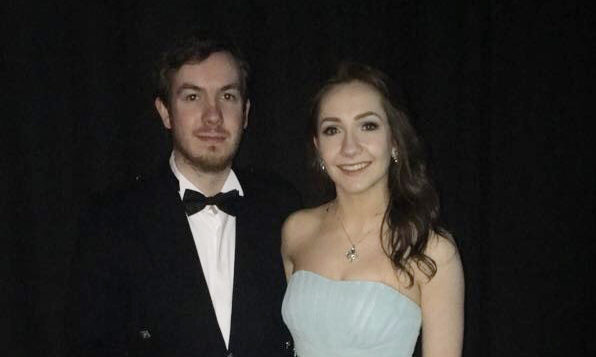 As the number of coronavirus cases in the UK continue to rise, many have pledged to do whatever they can to help.
Among those vowing to fight on the front line are Aberdonian siblings, Douglas and Elspeth Allan.
They graduated as doctors this week and immediately applied to start work early so they could help battle Covid-19.
They were registered to practice medicine on Wednesday.
At 22-years-old, Miss Allan was one of the youngest in her class and although nervous to begin her career in the middle of a pandemic, she is excited to help out.
"Obviously it is a daunting time but you don't start medicine thinking you're going to have an easy time of it," she said.
"I couldn't sit back and watch it happen and not help.
"I am a bit apprehensive, but university has prepared us really well. We're quite excited to be able to help out in any way that we can.
"I think the majority of people graduating chose to sign up. It's great to see people stand together to do everything they can to stop the spread of the virus."
Studying medicine as his second degree, Mr Allan ended up in the same class as his sister at Dundee University.
The 27-year-old has been following developments on the pandemic since January.
He said: "I'm proud to be a part of something like this. It's amazing to see what everyone is capable of doing and stepping up in a time of crisis.
"The NHS has always been near and dear to my heart. I always knew I wanted to help out and do my part."
Both siblings are currently at home in Cults following lockdown rules with their family but are preparing to leave immediately for work should they be called upon.
As they completed their studies in Dundee, it is likely they could be placed at Ninewells Hospital or Perth Royal Infirmary.
Although nervous to be stepping out into the "big, bad world", the pair are confident that NHS Tayside will do everything possible to support and protect them.
Their parents, John and Evelyn, and brother, Cameron, couldn't be prouder.
Mrs Allan was "delighted" when her children graduated as she felt it was an "extra bit special" for them both to qualify at the same time.
"Their great-great-grandfather was a Lieutenant Colonel and worked as a doctor on the front lines many years ago," she added.
"So it is a long family tradition of having doctors there to go up and face whatever is coming. It's a different type of war, but my kids are up there and I'm so proud of them."
Although "worrying" to have his family face the virus to protect others, Mr Allan sen said he would "never stand in the way" and noted the "biggest sadness" was that they wouldn't be able to celebrate their achievements as graduation has been postponed.
The only two people who could be prouder are the siblings themselves.
Miss Allan said: "It's been a long haul, so I'm extremely proud of myself and my brother.
"He's going to make a great surgeon one day."
Mr Allan jun said he had no doubt in his mind that his only sister will make "a fantastic doctor".