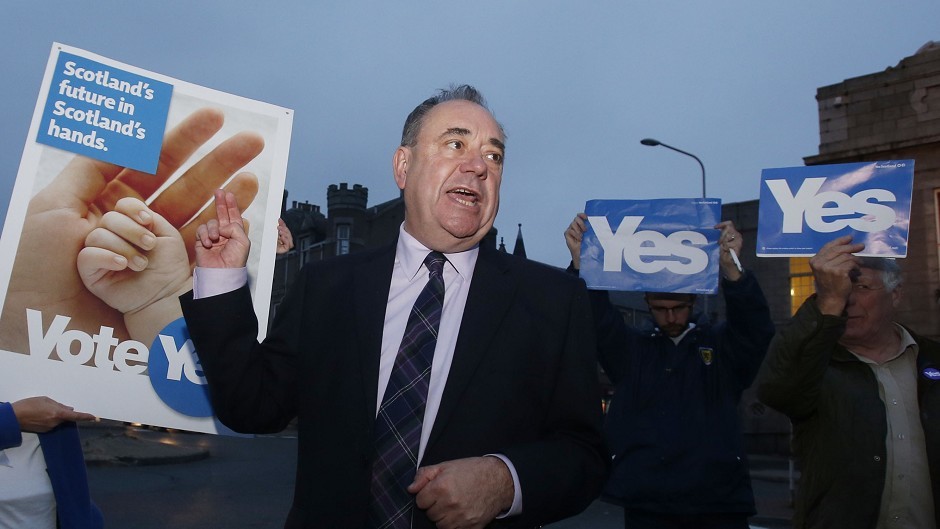 Alex Salmond's claim that the independence campaign was sabotaged by "The Vow" of more powers for Holyrood has been dismissed by new research.
Academics from the universities of Edinburgh, Glasgow and Essex found that just 3.4% of no voters cited the promise of further devolution by the three main Westminster party leaders, as the main factor behind their vote.
Instead 29.5% cited a feeling of being British and a belief in the union, 27.8% felt there were too many unanswered questions, and 26.3% said independence would make Scotland worse off.
By contrast, Yes voters when asked to identify what they believed motivated No voters 41.3% replied "Westminster misled Scots over new powers", 17% blamed press/BBC bias and 11.8% claimed the electorate "lost its nerve".
Dr Rob Johns, reader in politics at Essex University, said it was not unusual for a misleading narrative to develop about what swung an election or referendum.
"According to our data, anyone who thinks 'it was The Vow wot won it' is exaggerating, to say the least. However, once these narratives develop, they can be hard to shift," he said.
"And we may well see the effect of this one when voters turn out for the general election in May."
Last month analysis of web search data by Glasgow University also concluded the Vow had little impact on the referendum outcome.
Scottish Conservative chief whip John Lamont said all three parties came up with plans for more powers for the Scottish Parliament and they would be delivered whoever won the general election.
"Contrary to Alex Salmond's bluster, we have all been good to our word on delivering these powers," he said.
"But this research also confirms that people voted No for bigger reasons – because they believe in the UK and didn't believe in Mr Salmond's flaky assertions."
North-east SNP MSP Christian Allard said: "Polling conducted immediately after the referendum showed that a quarter of No voters regarded the promise of extra powers as important in informing their decision – and nearly 10% of No voters only made up their mind in the last week.
"Undoubtedly, the Westminster parties published the Vow because all of their information indicated that it would have a big impact on the result."