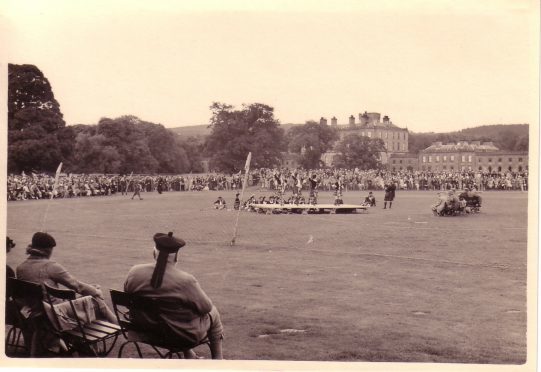 A highland games in Moray is going back to its roots and celebrating the event's expansion to two days.
Enthusiasts are being asked to don bowler caps and hobble skirts for Gordon Castle's annual gathering in May.
About 10,000 people are expected from across the world for the Speyside games later this year. But the event's glory years were between the 1900s and 1940s when crowds of more than 30,000 descended on Fochabers.
A host of exhibitions have been lined up for the two days to shine a light on the lives of those who attended the games in the castle grounds.
Curious visitors to the Saturday event will get to enjoy big band performances, vintage vehicles, historic agriculture and traditional weaving.
Sunday's programme features all the traditions of a highland games, including a world-record attempt in the Scottish 28lb distance championships.
A charity "We're a Knockout" competition, falconry displays and gun dog demonstrations will be organised throughout the weekend.
Angus Gordon Lennox, owner of the castle, said: "It's very exciting and rewarding to be expanding this family-friendly event to two days for the first time in over a century.
"Not just because it will act as a tribute to the period in which the castle enjoyed its heyday, but also to play a key part in the year of history, heritage and archaeology celebrations."
Events are being organised all over the country to turn the clock back in Scotland and celebrate its past.
Gordon Castle has been backed by Event Scotland funding to help it cover two days.
The agency's head, Stuart Turner, added: "In the year of history, heritage and archaeology, it is fitting the games will celebrate Gordon Castle Estate's rich history and heritage through the addition of the vintage village with a fantastic family programme of big band music, vintage fashion and traditional craft demonstrations."
The Gordon Castle Highland Games will run on Saturday, May 20 and Sunday, May 21.