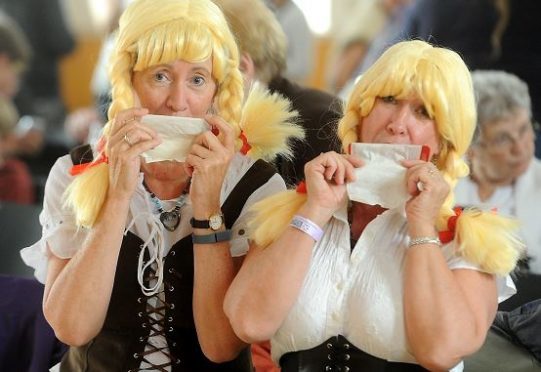 Music lovers from as far afield as Australia, America and Denmark are flocking to Aberdeenshire this week for an annual Folk festival.
The 29th annual event in Stonehaven starts today in various venues across the town and tickets for the main concerts have sold-out already for Friday and Saturday.
Visitors need not be disappointed however, as the bands will also be playing break-out gigs at the marquee which will be pitched in the Market Square over the weekend.
Chairman of the festival, Charlie West, said many of the people attending are return visitors, and the event has "grown arms and legs" since the very first one took place in 1988.
He added: "We are expecting between 2,000 to 3,000 people over the four days."
The Festival line up has many internationally known artists, including the Iona Fyfe Band, Jarlath Henderson Band, Fara, Archie Fisher, Mike McGoldrick and Friends, Emily Smith and Jamie McClennan and the John McCusker Band.
Meg Findlay has been part of the organising committee since the very beginning 28 years ago.
She said: "We have a really exciting and diverse line up this year with something for everybody – superb musicians and singers. The sessions and workshops are always very popular and we have worked hard respond to feedback from previous years to make them even better this year"
The main festival concerts take place in Stonehaven Town Hall with afternoon concerts in the Market Square and late night concerts in the British Legion.
Two of the unique events taking place are the World Paper'n'Comb Championships – the theme this year being The Rocky Horror Picture Show – open to all ages and abilities, paper will be provided and "fancy dress is optional".
On the Sunday morning there is the Aqua Ceilidh held in the Open Air Swimming Pool, where swimmers can take part in 'Drip the Willow' and the 'Splashing White Sergeant' for starters.
The festival begins today and ends on Sunday.
For full details please visit the festival web site www.stonehavenfolkfestival.co.uk