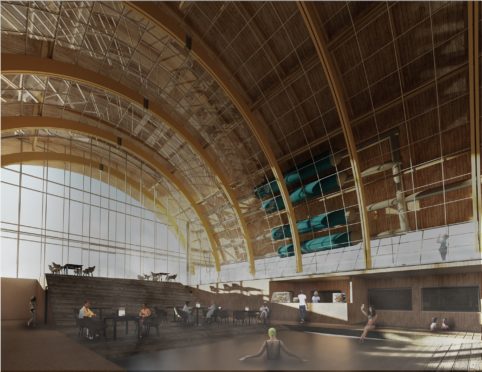 Architecture students have come up with creative ideas for the redevelopment of Aberdeen Harbour as part of a design exhibition.
A team of 29 students from Robert Gordon University (RGU) will showcase various models as part of a "future communities" display, which will take place later this month.
Patrick Harris has created a "sustainable energy solution" for the centre of Aberdeen Harbour which would feature a hydrogen production system and public baths.
Designs also offer "innovative solutions" to major nationwide challenges such as housing and tourism.
Hugh Fish, a final year student, has developed a block of flats which gives residents plenty of green space to relax in.
He said: "As city life becomes increasingly hectic and communal pleasures more varied, it seems more than ever that one should have a place into which they can retreat – somewhere quiet where they have time to think and can refresh themselves by re-establishing contact with nature.
"The benefits of having a garden are vast, yet much of the UK's current inner-city housing stock does not provide any opportunity for gardening, yet alone having a garden."
Chester Kendell's vision is for a new museum, situated at the entrance into Stromness, creating a pedestrian link between the industrial harbour and the historical high street.
He said: "The museum is designed to spiral the visitor up above Stromness town."
The exhibition will feature other high definition images and models of the projects, and the students will deliver a series of presentations on their work.
Professor David McClean, head of the Scott Sutherland School of Architecture and Built Environment, added: "It is important for a school such as ours to share ideas about our future environment, and in doing so hopefully stimulate discussion and debate."
The Anatomy Rooms, on Queen Street, will host the exhibition from Friday, May 17, to Sunday, May 19.