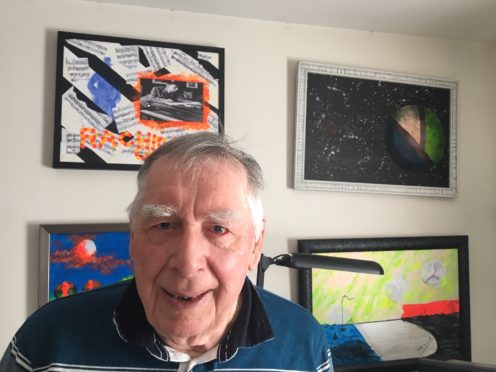 An Elgin veteran is refusing to let sight loss derail his artistic endeavours by embracing more unconventional forms of art and design.
Douglas Burke, 81, has created and sold detailed paintings of favourite locations across the country during his lifetime.
But continuing could have proved a struggle when he developed the eye condition macular degeneration in 2007.
Mr Burke has, however, been undeterred and has continued on with his hobby by finding new ways to express himself through art.
He turned to an array of diverse materials to create collages, using everything from old CDs to newspaper cuttings, making his works much more visual impairment friendly.
Mr Burke is supported by charity Scottish War Blinded and believes he is proof that sight loss does not have to be the end of the world.
He said: "As my sight got worse I started working on the collages.
"I had been using a hand-held magnifier to do anything detailed, but I found it difficult looking through that and trying to control a brush at the same time, so I started looking at other ways to get around my sight loss.
"You can use anything to create a picture.
"I've used CDs to create flowers and I'm into the theme of space at the moment. It's just ideas that come to me. I see in my head what I want to create."
It is far from the first time Mr Burke has had to overcome challenges.
He served with the Royal Horse Guards for six years before working as a postman and an experimental worker for the Ministry of Defence.
Aged 50, however, he suffered a stroke and had to learn to walk and talk again.
It was then that art became his solace and it has been a big part of his life ever since – one that he is not ready to relinquish without a fight.
He said: "The stroke affected the sight in my left eye and it took me two years to be able to write my name again.
"It was a case of mind-over-matter. What I couldn't do, I found a way around.
"At the rehabilitation centre after my stroke I took part in a ceramics class.
"Art came naturally. I used to do odds and ends at home but I found it so therapeutic and relaxing.
"I belong to an art club now."
Scottish War Blinded has also helped Mr Burke to attend cultural trips, such as visits to the theatre, along with other veterans who have visual impairments.
He has also received one-to-one support from an outreach worker and attends monthly lunch groups with fellow veterans with sight loss.