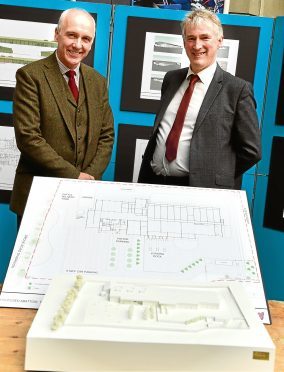 Farmers and members of the public were given a first glimpse of plans for a new multi-million pound abattoir for the north-east yesterday.
Scotbeef Inverurie, which currently runs a multi-species abattoir in the centre of Inverurie, has published proposals for a long awaited new abattoir.
The company, which is jointly owned by Scotbeef, which has a 75% share, and ANM Group which owns the remainder, has long spoken about relocating its abattoir to the Thainstone Business Park, near Inverurie.
The plans have moved forward since ANM Group gained planning consent for its Thainstone Business Park extension, and Scotbeef Inverurie's intention is to seek planning permission to build its new abattoir there.
Former Quality Meat Scotland chief executive, Uel Morton, has been recruited to oversee the development of the new meat plant.
He said a public exhibition held at the Thainstone Centre yesterday had been an information gathering exercise to garner views on the proposals from interested parties.
Architect David Nimmo, from Nimmo Architects, said all views would be considered before a formal planning application for the plant is submitted to Aberdeenshire Council for consideration.
He said the total cost of the plant was not yet known, but said it would require "significant investment" by the company.
It is hoped once planning consent has been obtained and services have been put in place at the site, construction will begin in April 2018. The company hopes to have the plant completed and up and running by April 2019.
Mr Morton said the new plant would solely process cattle, unlike the current plant which kills sheep, cattle and pigs.
In future, pigs will no longer be killed at Scotbeef Inverurie and sheep which are currently killed at the site will be sent to Scotbeef's two other sheep processing sites at Bridge of Allan and Annan in Dumfriesshire.
Mr Morton said the new plant would also include increased retail packing facilities.
He said it would safeguard the existing 110 jobs at the current abattoir, and there was potential to create 30 new jobs in future.
Aberdeenshire cattle farmer Charlie Adam, who is also chairman of NFU Scotland's livestock committee, attended the exhibition.
He said: "We welcome plans for an up-to-date facility, fit for the 21st Century and beyond."