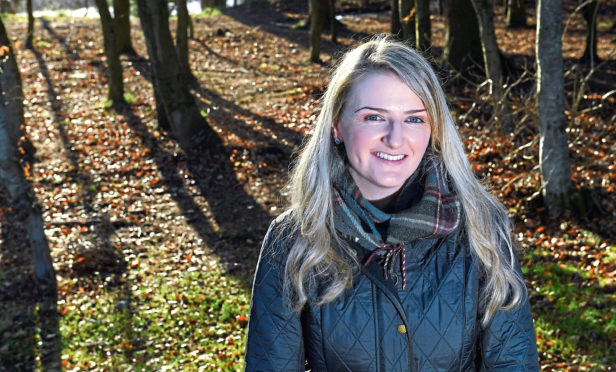 From Tarland to Tanzania – agricultural researcher, Dr Jenna Ross, is on a mission to help farmers across the world tackle slugs.
Dr Ross is one of seven members of the agricultural community to be recognised in this year's Royal Northern Agricultural Society (RNAS) awards.
A number of awards are presented by the society every year to recognise members of the farming community in the area.
Dr Ross is the winner of the 35 and under award, sponsored by Scotland's Rural College, SRUC.
The award, which is given to a person in that age group who has demonstrated significant achievement and contribution to agriculture, goes to Dr Ross in recognition of her academic work into slug control and her efforts to encourage youngsters into the farming industry.
A farmer's daughter from Tarland, Dr Ross has travelled the globe in search of ways to eradicate slugs and to better understand the extent of the problems caused by the pests.
"I did a PhD which was focussed on biological control of slugs and from there I did research in Europe, the USA, and then ended up being based out in South Africa working on a new product for the control of slugs," said Dr Ross.
"I was working at a university supervising Masters and PhD students, and I also spent a year working at the International Institute for Tropical Agriculture. in Tanzania."
Dr Ross returned to the UK last year to embark on a Nuffield Farming Scholarship, funded by AHDB Cereals and Oilseeds and the Royal Highland and Agricultural Society of Scotland (RHASS).
Her project – Riding the slime wave: Gathering global data to enhance slug control in the UK – set out to collate global information on slug control, in order to enhance farming methods in the UK.
"I spent 26 weeks travelling the world last year for the scholarship," said Dr Ross.
Her final report, published last week, found a need for stricter biosecurity controls in the UK as 50% of the nation's slugs are exotic species.
It also highlighted the direct and indirect economic impact of slugs on UK agriculture, and the need to develop better methods for recording and assessing slug numbers.
She said it was difficult to quantify the cost of slug damage to the industry, but estimates from levy body AHDB suggest it costs the UK £100 million every year.
Working on the assumption that UK growers will soon no longer be able to use metaldehyde to control slugs, Dr Ross said: "Ferric phosphate may be the only control agent in the future. But if you solely rely on one chemical, what happens if slugs get resistance to that?"
She said her Nuffield report included proposals for farmers to adopt an integrated pest management (IPM) pyramid strategy when devising slug control plans, and more work was needed to develop biological controls for slugs.
And to try bring some of these proposals to fruition, along with other projects to aid the sector, Dr Ross is currently working as the innovation hub lead at Crop Health and Protection Limited – one of four centres of agricultural innovation in the UK.
"I'm currently working on grant applications for some of the proposals," said Dr Ross.
"I'm looking at better management practices, control systems, and how to make biologicals [controls] more cost effective.
"My role focuses on all innovations including disease protection, monitoring and vertical farming."
Dr Ross' passion for improving the farming industry through the translation of science into practice was a key driver for her winning the RNAS award.
One citation for the award said: "Jenna is a champion of knowledge transfer in agriculture, both at a national, and international level.
"Not only is she a pioneer in her field, she is a believer in life long education, and transferring agricultural knowledge. In addition, Jenna may also be the key to controlling slugs – a major economic pest in the UK."
Another citation reads: "Her studies have varied from studying slugs' feeding behaviour to different nematodes and parasites that could be used as a biological control of slugs and snails.
"This would could have a significant impact to agriculture, both here and abroad."
On winning her award, Dr Ross said: "It's a great honour to be recognised by my peers – especially my peers at home."
Dr Ross will receive her award at a special celebration lunch on Friday November 1 at the Jury's Inn at Aberdeen Airport.
Tickets for the awards lunch are available from RNAS secretary Alison Argo by calling 07714 899628 or by sending an email to secretary@rnas.info