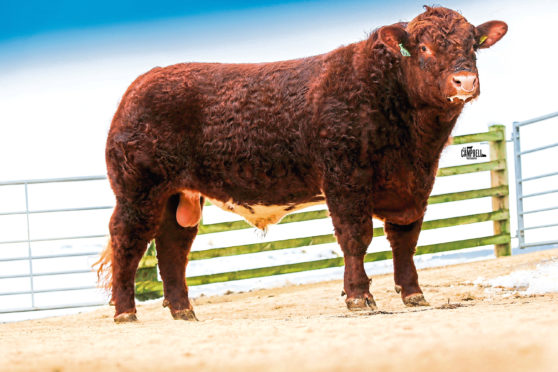 Pedigree Luing bulls sold to a top of £15,960 twice at the breed's annual premier sale.
The sale, conducted by Wallet Marts, was held online due to Covid-19 restrictions.
The Luing Cattle Society hailed a successful sale, with 30 bulls selling to average £3,269, up £1,895 on the year.
The first bull selling for the top price of £15,960 was Craigdarroch Yale from Messrs W Graham & Sons, Sanquhar, Dumfries.
An April 2019-born son of Culmaily Turbo, he sold to Professor Penny for the Harehead herd near Duns.
The second bull making £15,960 was an entry from Prof Penny selling to the Grahams for their Craigdarroch herd. This was Harehead Yogi, by Commonside Valiant.
The next best price of £14,910 was paid for another Craigdarroch bull, Craigdarroch Yankee by Craigdarroch Wrangler. He sold to the Bells for their Plenderleith herd based near Kelso.
At £14,700, Peebles breeders David and Andrew Barr, who run the Milkieston herd, sold Milkieston York, by Benhar Tweed, to Messrs Hamilton, Allanton Farming, Darvel, Ayrshire.
Other prices included: £11,970 for Craigdarroch Yoker, by Finlarg Nimrod, from the Grahams, selling to Tom Lyth, Heatherhouse Farm, Tankerness, Orkney; and £11,760 for Finlarg Yukon, by Lammermuir Tremendous, from Robert and Hazel McNee, Over Finlarg, Tealing, selling to T Renwick & Sons, Blackhouse, Selkirk.
Meanwhile, in-calf heifers averaged £2,212 for 31.
This was down £84 on the year. They sold to £3,360 for a pair from West Lothian breeder Robert McNee's Benhar herd.
In-calf to Milkieston Xavi, they sold to Allanton Farming.
Bulling heifers averaged £2,007 for 83 – up £732 on last year's sale – and sold to £2,835 for a pair from Craigdarroch, selling to Prof Penny at Harehead.