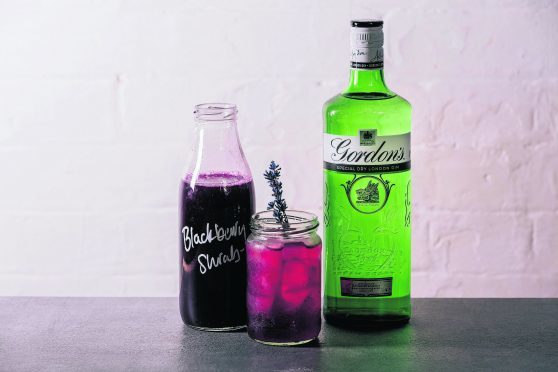 When it comes to crafting a good cocktail, bartenders usually let the ingredients speak for themselves.
Flavour is the first thing to consider, and with the current trend for richly coloured purple foods (think purple cauliflower, asparagus, elderberries and sweet potatoes), it's not surprising maverick mixologists are matching flavours with colour to create vibrant, purple-infused cocktails.
And considering purple signals mystic, magical and lavish qualities, not to mention the natural health benefits of purple foods, there couldn't be a more playful pigment to create approachable, refreshing and distinctive drinks.
Here are five concoctions that dare to be different . . .
1) Newton & Pott: Blackberry Shrub Cocktail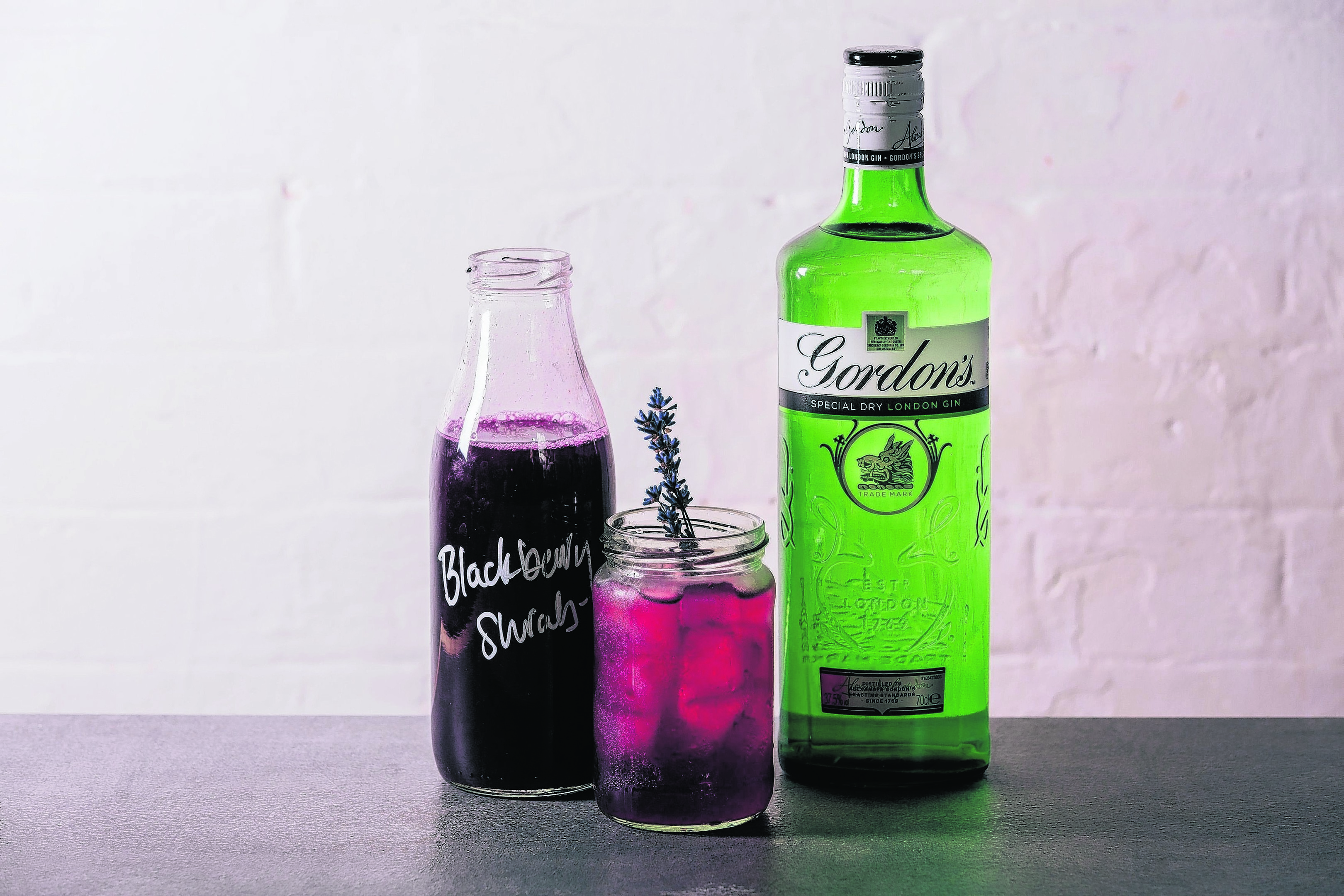 The ingredients
100ml Gordon's London Dry Gin (£14, 70cl, Tesco)
100ml Blackberry & Lavender Shrub (see recipe below)
lots of ice
tonic water
fresh blackberries and lavender to garnish
The method
Half fill a cocktail shaker with ice.
Add the gin, shrub and lemon juice.
Shake for at least a minute. Strain into two tall tumbler glasses filled with ice and top with tonic.
Garnish with blackberries and a sprig of lavender.
2) BLACKBERRY & LAVENDER SHRUB
The ingredients
500g blackberries
1tsp lavender
250g caster sugar
200ml raw apple cider vinegar
The method
Gently wash the blackberries and place into a large clean jar and add the caster sugar and lavender.
Secure a muslin square/cover over the opening of the jar.
Place into the fridge and gently rock/shake daily for about two to three days until the sugar has dissolved.
Once the fruit has macerated for a few days, place in a pan with the vinegar and gently bring to a very light simmer on a medium/low heat for about five minutes, softening the fruit.
Cool the mixture to room temperature then strain through a sieve into a jug, pushing it through with the back of a spoon.
Sieve the collected liquid again, this time using a piece of muslin over the sieve, to get a finer shrub.
Pour the shrub into a bottle, seal, label and store in the fridge. Keeps in the fridge for up to four months.
3) Smith and Sinclair: A Berry Nice T&T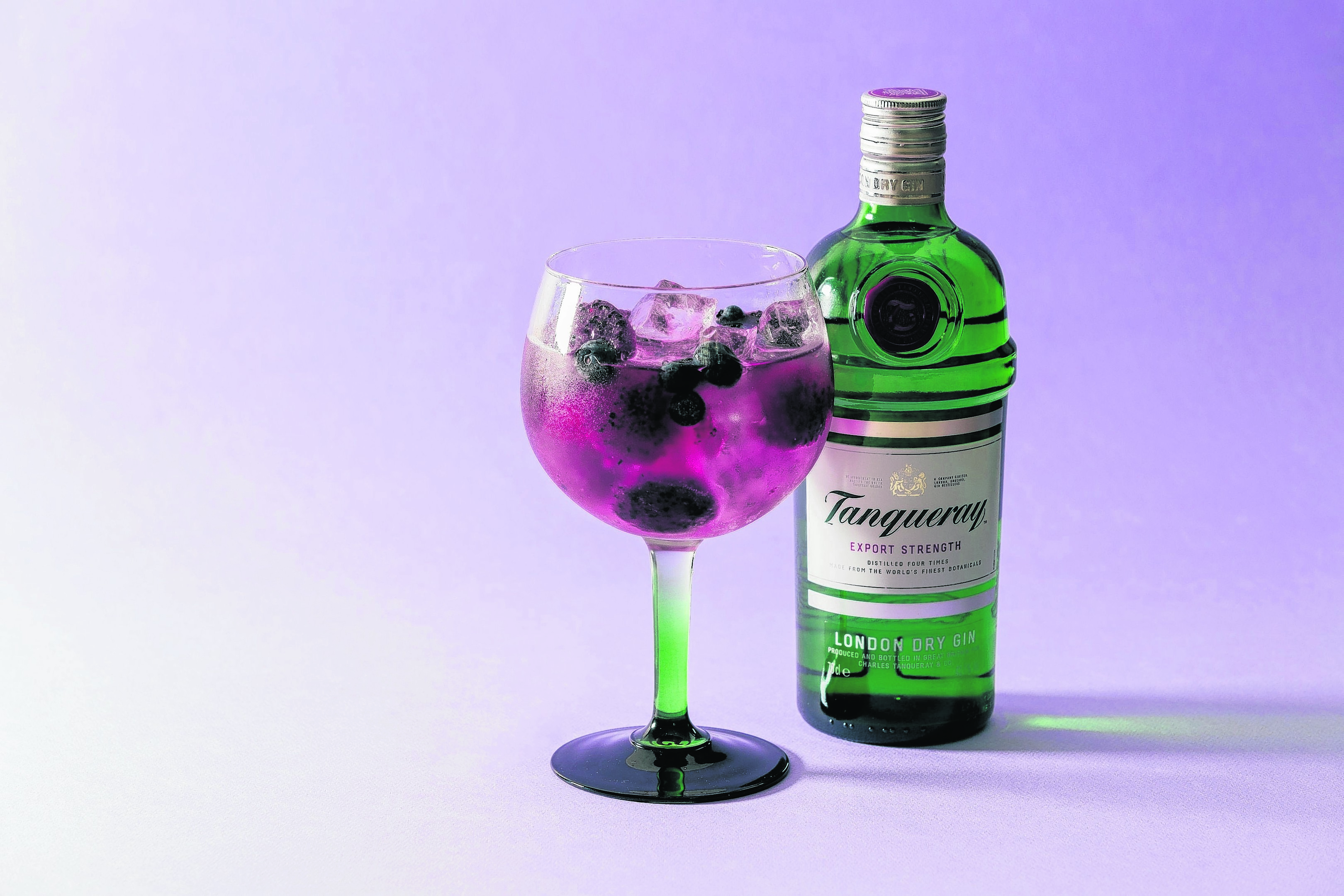 The ingredients
300g of any purple berry (recommended: blueberries, blackberries, grapes)
400ml water
lemon
50ml Tanqueray London Dry Gin (£19.95, 70cl, 31dover.com)
tonic water – need a blender and ice cube trays
The method
Night before/morning of: Into the blender: 200 grams of purple berries, 400ml water and squeeze the juice of half a lemon. Blitz until smooth.
Only pour into 25% of the ice tray cavities, then spread out the remaining 100g of berries into the ice tray cavities and continue to pour the berry mixture over each berry until all cavities are full. Then freeze overnight.
NOTE TO SELF: If you would like a combination in the glass of colour and intrigue, make 50% of your ice cubes purple (as above) and for the other 50%, cut the berries in 1/2 and freeze into water for aesthetic variation. Build the berry ice cubes into a tall glass. Pour 50ml of gin over berry ice cubes and top the glass up with tonic and enjoy.
4) Rob Simpson, Bartender at the Clove Club: Beetroot Daiquiri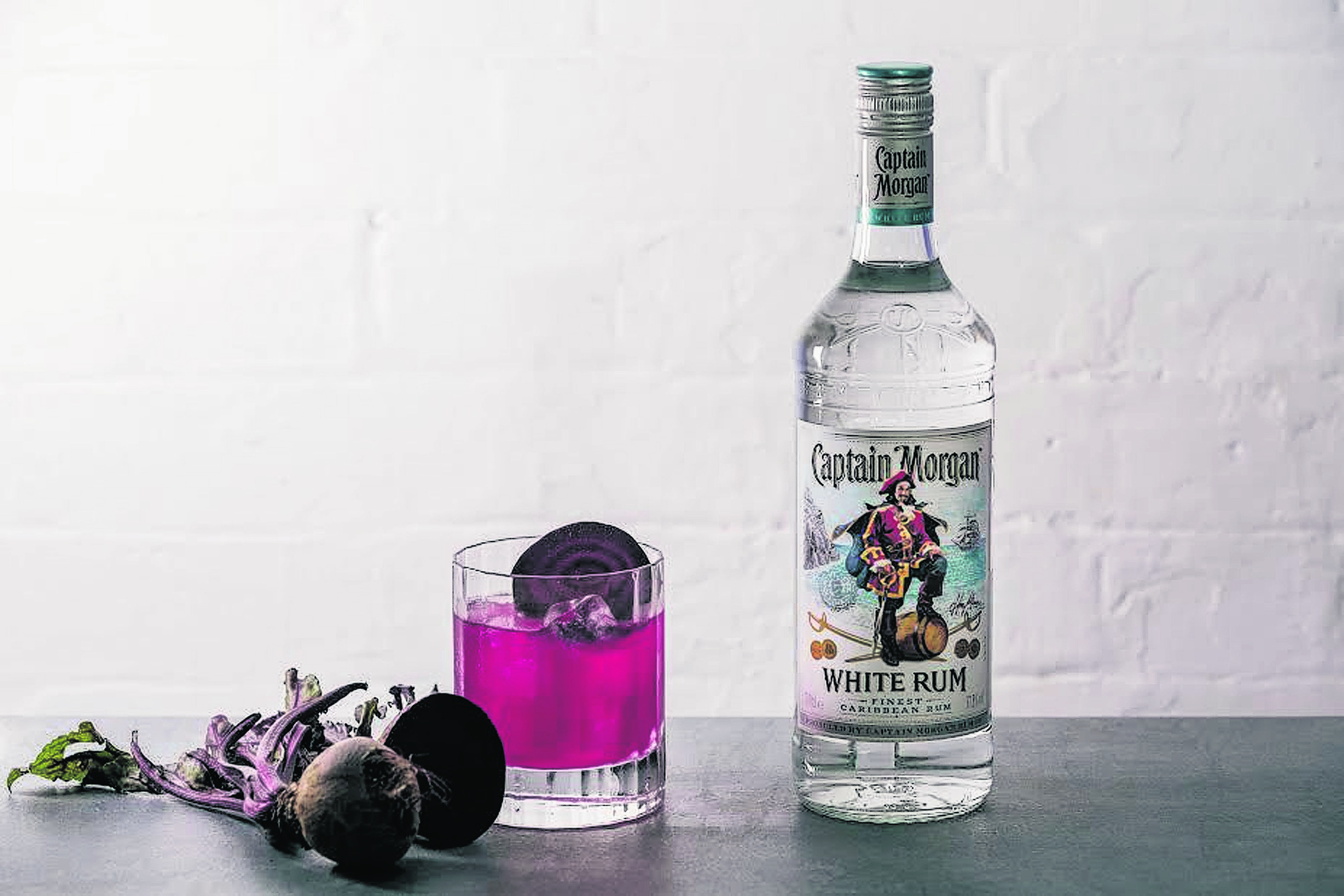 The ingredients
50ml Captain Morgan White Rum (£15.50, 70cl, Asda)
25ml lime juice
25ml sweet beetroot juice (see below)
The method
Half fill a cocktail shaker with ice. Add the ingredients and shake vigorously for 10-12 seconds, strain into a rocks glass over ice. Garnish with a slice of beetroot or a slice of lime.
For the sweet beetroot juice: Take 400ml of beetroot juice (you can either buy this ready juiced or juice your own), put the juice in a pan, add 400g of white caster sugar, heat gently and stir until the sugar is completely dissolved.
Once the sugar is dissolved, remove from the heat, allow to cool and bottle. The syrup will last for a couple of weeks if kept in the fridge.
5) Belaire Rose: Fields of Lavender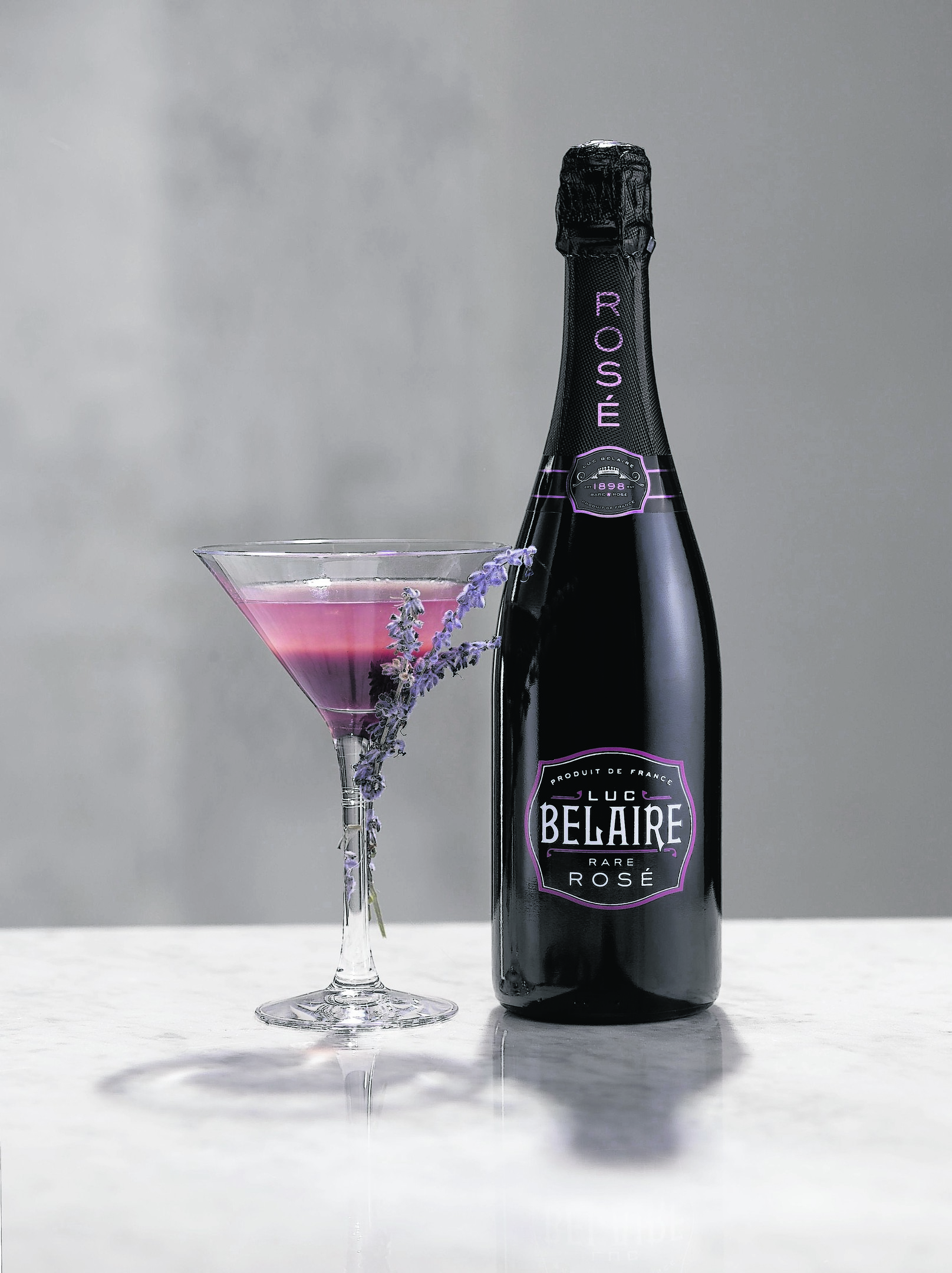 The ingredients
30ml Blackberry puree
20ml Chambord liqueur
10ml simple syrup (1 part sugar to 1 part water)
4 drops (5ml) La Fee Absinthe
A pinch of lavender seeds (approx 8)
Top with Luc Belaire Rose (£21.95, www.31dover.com)
The method
Half fill a cocktail shaker with ice. Add the ingredients, apart from the sparkling rose.
Shake vigorously, strain and fine strain (filtering all seeds) and pour into a chilled martini glass.
Layer the Belaire Rose with a bar spoon to create a distinct separation of the liquids. Tie a sprig of lavender to the neck of the glass for aromatics.
6) Baileys: A Spring Affair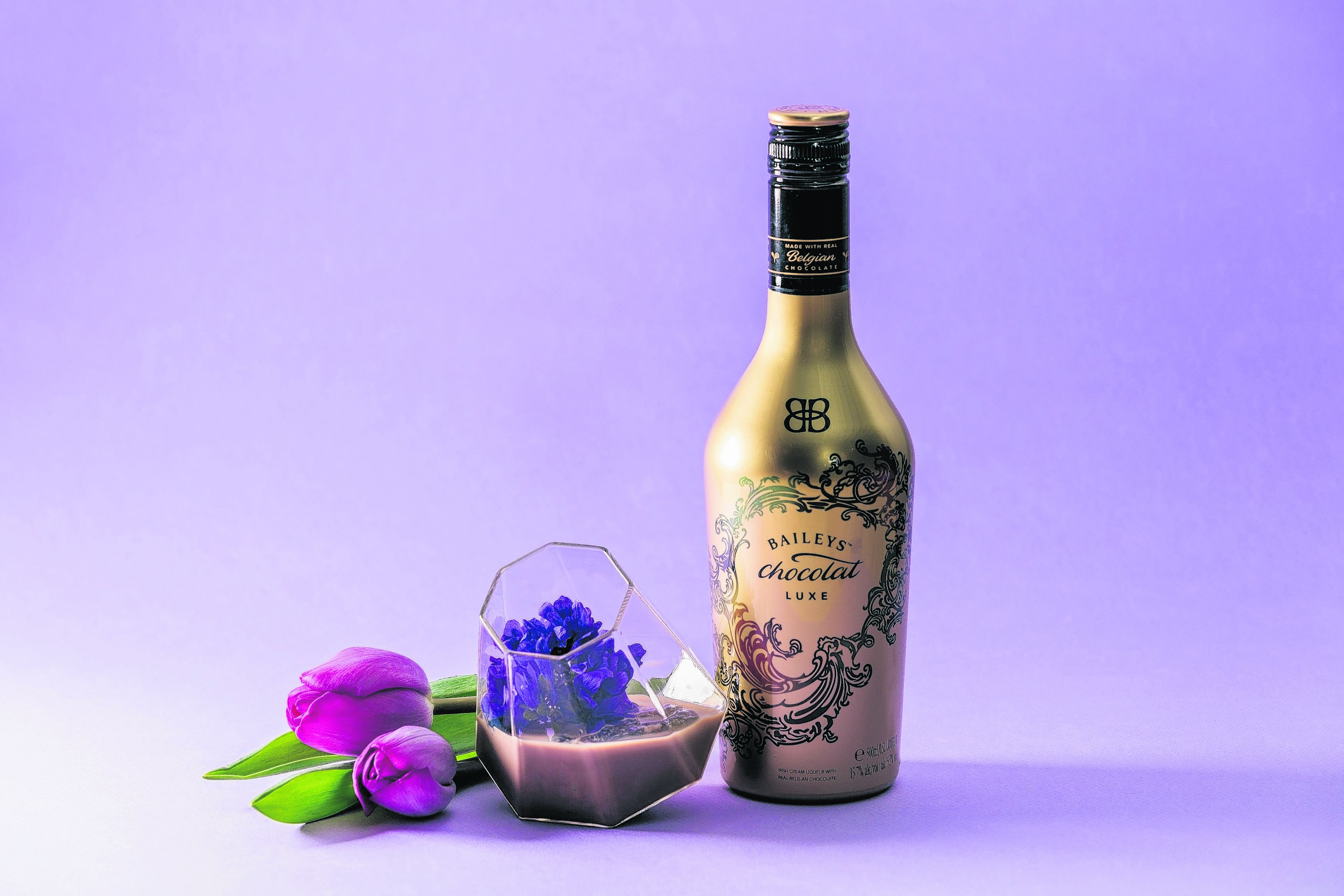 The ingredients
50ml Baileys Chocolat Luxe Cream Liqueur
Handful of edible flowers (sweet violets)
Macaroons to garnish
The method
Pour 50ml of Baileys Original or Chocolat Luxe over ice into a tumbler or short glass.
Place sweet violets into the glass and garnish with macaroons.