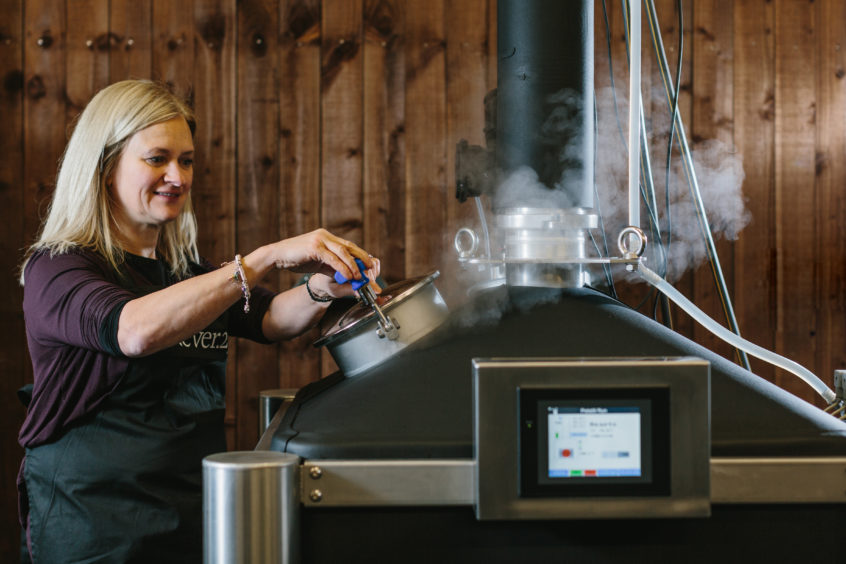 Launching new products into the marketplace can be challenging at the best of times, but to do it while the nation is in lockdown makes it doubly so.
But that hasn't stopped a number of drinks firms from pressing on with plans and introducing new items into their range.
From an Italian coffee spirit called Pietro Nicola Caffe Margaux from the House of Botanicals in Aberdeen, to new gin flavours from The Dundee Gin Co, not to mention cocktails in a can from Aberdeen distillers Porter's Gin, there's plenty to look forward to trying out when it comes to the drinks sector.
But why launch a new product during a global pandemic? Well, why not?
Releasing a new Singular Series just before lockdown was announced, Peter Dignan, co-owner of Lost Loch Spirits in Deeside, Aberdeenshire, says he will continue to reveal the new bottlings as they are ready.
He said: "We've recently just launched our Singular Series which we've been working on for a while.
"In the current market they are selling really well. We launched our whisky barrel-aged Murmachin just before this all happened and the Rucalino – an Italian liqueur make with rocket leaves – was in the bottles and ready to go, so we just thought that there was no point in it just sitting there, so we pressed on.
"We've had to close the distillery doors so have had to cancel loads of tours and spirit schools which is a real shame. Almost everyone has rescheduled which has been great, but with everything else slowing down, we're pushing all our resources into online now and proceeding with launching the products.
"People are still drinking and shopping at the local bottle shops so these have been essential for us. The Singular Series consists of stuff we've looked at and played with. We've created it on a smaller scale to keep it purely for the independent bottle shops, with runs of 250 to 1,000 bottles. The whisky barrel-aged absinthe is really special and the Rucalino is pretty impressive, too. The third will be a blended rum with vanilla beans and we'll launch it later this month. There's a lot more still we're working on releasing this year, too, but we'll continue to launch them as they are completed."
Creating a cocktail in a can, Aberdeen's Porter's Gin co-founder Ben Iravani is adamant the new product will be a hit with fans of the brand.
"In general terms, we've seen quite a significant uplift in online sales at the moment," said Ben.
"We've also just released a canned cocktail called the Hippy Fizz, which is going down really well with customers. Nostalgic to hippies of the past, patchouli leaf is the lead ingredient in Hippy Fizz. This drink started its life as a Porter's Gin cocktail recipe, before moving into kegs and is now finally available for our customers to buy in a can.
"It's made with our gin, patchouli leaf, pineapple shrub, malted passion fruit and hop soda. It's only available on our website just now.  Online sales on drinks and bottle shop sites and our website have definitely increased and I think this will continue on after we're out the other side."
In Tayside other gin firms are also testing the waters by launching new products including The Dundee Gin Co and also Fife firm Tayport Spirits.
Releasing its new Wild Rose Gin at the weekend, Tayport Spirits, who worked with the team at The Newport Restaurant to forage for ingredients for the gin, will host a weekly tasting session every Friday at 7pm on the firm's Facebook and Instagram pages due to its first virtual tasting being hailed a success.
Kecia McDougall, director and head distiller at the firm, said: "Our gin has been in development since August last year and has taken until now to finalise the product recipe, bottle and label design and get to the launch point.
"We had no idea the impact that coronavirus would have but we had already made the investment in the product. As with all businesses, it has taken us some time to regroup and plan a new marketing strategy, rather than delay we decided to soft launch without 'people contact' using social media.
"Bars and restaurants closing has had a massive impact on our sales so we needed to think differently and be more creative in getting our product out to the market. All of our traditional routes to markets and meeting clients directly have stopped, so we have decided to make use of technology. Thankfully my daughter is quite up-to-date with social media and creating video content, so we are adapting to a new way of getting our products noticed.
"Our online launch last week is just the start to sharing our new product with our followers on Instagram and Facebook. We have noticed many of our friends in the bartending community are going online and showing people how to make great cocktails at home. Whilst we are in this period of self-isolation it seems a great way to give people something to look forward to whilst at home."