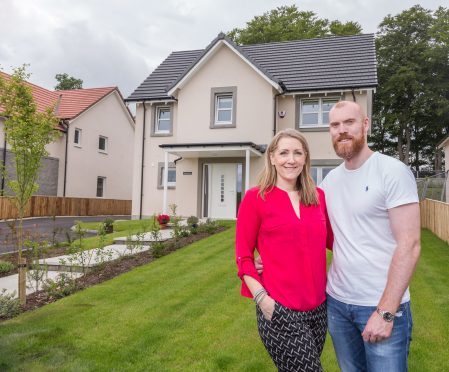 Because there had been an accident on the normal route she took from work to her home in Kingswells, Aberdeen, Tara Zacha took a detour to avoid the long traffic jam.
That alternative route took her past Blairs Royal Deeside, a development from Muir Homes, featuring newly built houses just outside Aberdeen on the banks of the River Dee.
She was impressed and when she got home, she told her husband, Derek Roft, about it – they had already decided they wanted to move from their three-bedroom home to somewhere with a bit more space, both inside and out.
"I got home and mentioned to Derek that I'd seen a new development by Muir Homes and that it looked very scenic," said Tara. "We decided to go along for a look, and the next thing you know, we had found our new home!"
When the couple visited the Blairs development, they were immediately impressed.
"Our first impressions were really good," said Derek. "The location is excellent – right beside the river, really peaceful and tranquil with a countryside feel, but only a few minutes away from the city. The quality of all the houses we visited were amazing, with really high-spec fixtures and fittings.
"Margaret the sales advisor was also very helpful, answering all our questions.
"We chose the four-bedroom Nairn as it gave us plenty of the extra space that we were looking for, including a guest bedroom for our visitors with its own en-suite, a double detached garage and a large back garden, which were all things that were really important to us.
"We also loved the layout of the house, and the fact that it has gorgeous views of the surrounding countryside – in fact, the view is probably my favourite thing about living at Blairs."
The open-plan kitchen/dining space is another of the features of the Nairn that the couple particularly love.
"The large flexible space gives us the perfect place to entertain when we have friends round for drinks or dinner, and our living room is also really big," said Derek. "We're very happy here at Blairs, and our two Siamese cats, Enzo and Elsa, seem to have settled in really well – I think they're enjoying all the extra space too."
Muir Homes is a family-run, Scottish housebuilder with more than 40 years of experience in building happy communities of new homes with a focus on innovation and development. Blairs Royal Deeside features a range of three, four and five-bedroom homes in beautiful surroundings, with prices starting from £359,995.
Contact: www.muirhomes.co.uk/new-homes/blairs-aberdeen/ or call 01224 868570. The Marketing Suite is open Thursday to Monday, 11am to 5pm.