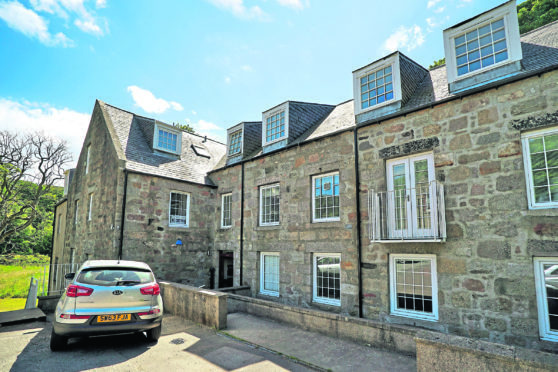 Scott and Lindsay Cruickshank certainly have a flare for interior design, but it's not from fancy magazines or hip TV shows that the couple garner their inspiration.
Instead they prefer to get creative with designs they see when they're out and about, paying attention to stylish hotels and bars in particular.
As a result, the pair have managed to create one of the most unusual two-bedroom apartments on the market, combining both history and ultra-modern design in this one-off buy.
Number 9 Kettocks Mill Road itself is situated in a secluded part of Grandholm overlooking the River Don and woodland beyond.
It makes up part of a 14th Century former meal mill which was saved from falling to ruin when it was converted into flats approximately 50 years ago.
Located on the first floor, Number 9 feels bright and welcoming from the moment you step inside, with Maisy the Rottweiler and Bert the Jack Russell cross offering visitors an energetic greeting.
The open-plan lounge, kitchen and dining area make up the heart of the home and the couple are pleased with the modern space they have created.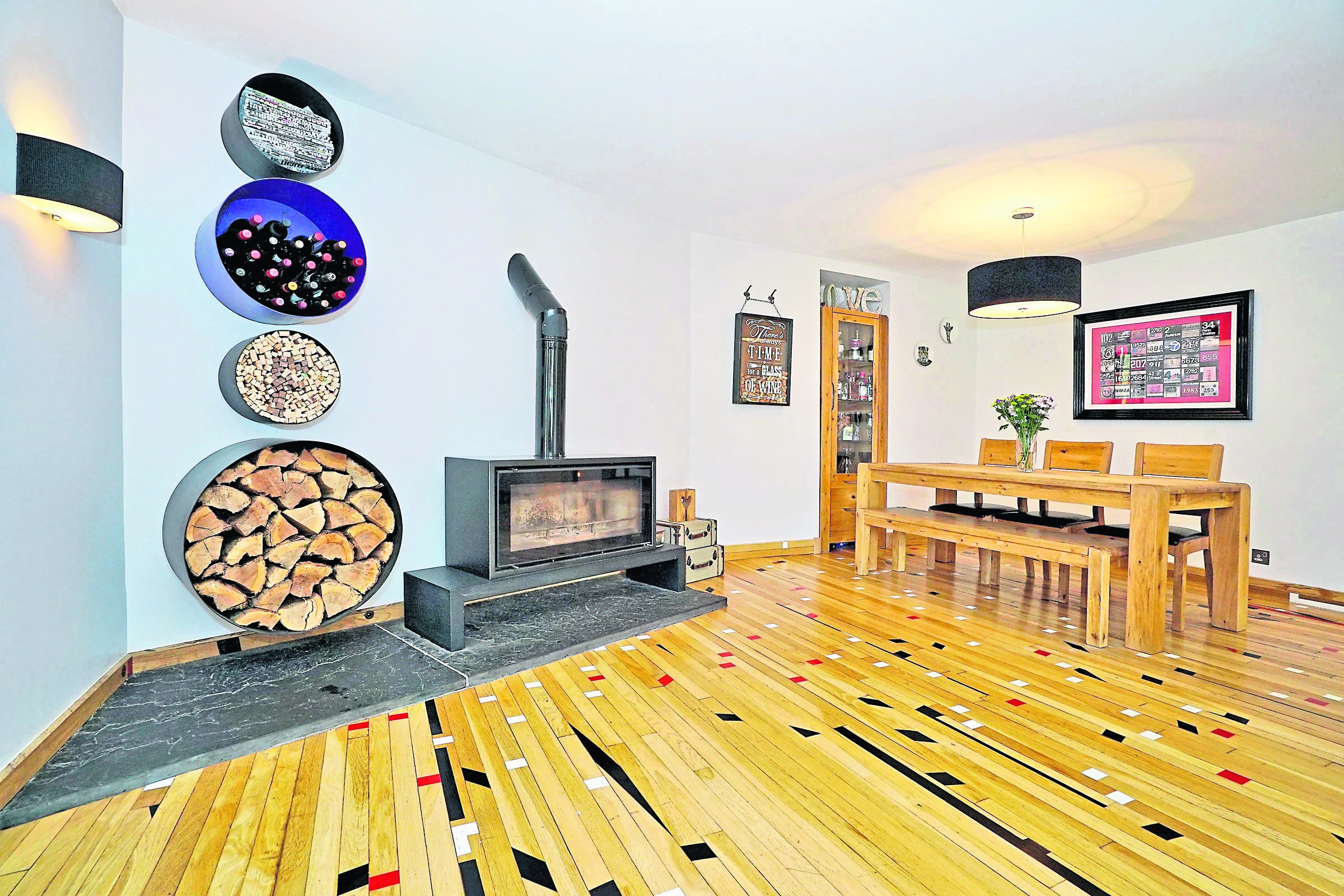 "I've owned the flat for 16 years now," said Scott. "It was pretty much a bachelor pad before Lindsay moved in though!
"The first big change we made together was to add really good double glazing and the wood-burning stove, it made the place so much cosier and the fire literally heats the whole flat in winter.
"I prefer a minimalist style too so the stove just fitted in really well with our plans for the rest of the flat."
And with heating issues checked off their list, the Cruickshanks turned their attention to the kitchen.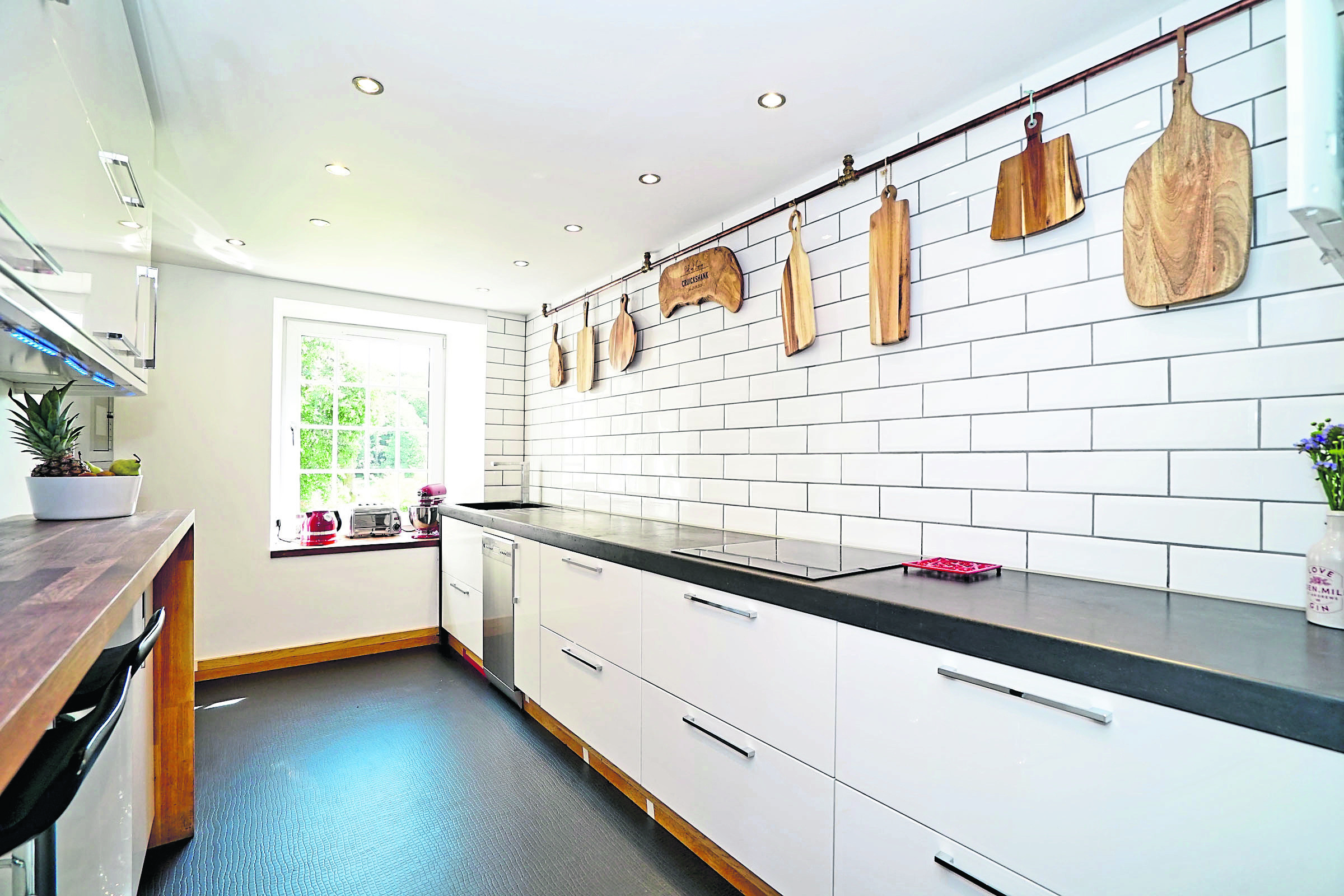 "The main worktop is a huge long slab of custom-made concrete," said Scott, 47, who works as a company director for the family business.
"We got the idea from a Brewdog pub which used exactly the same thing as their bar for pulling pints.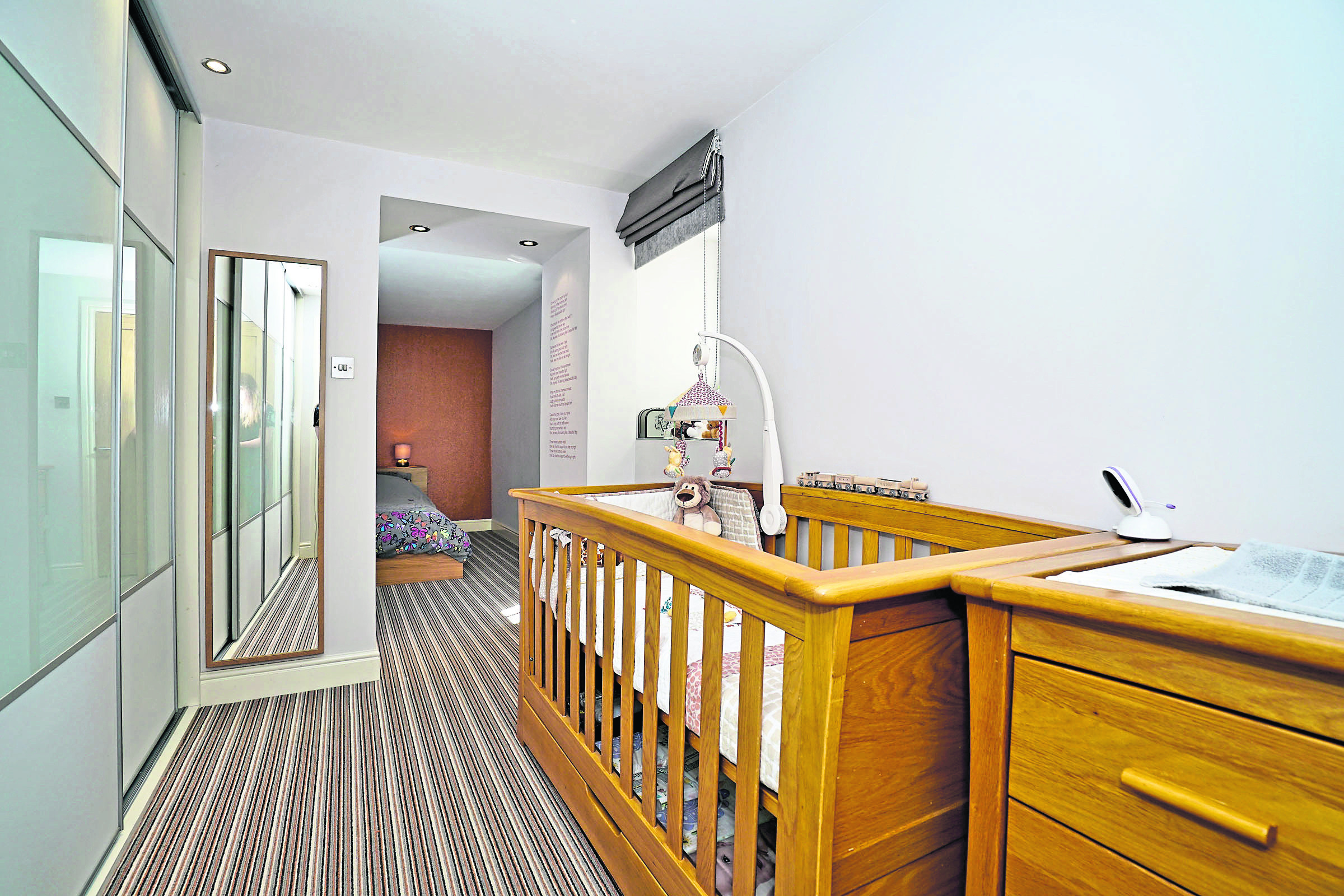 "But obviously we wanted to work it into our home, so although we quite like the industrial look we contrasted it by having lots of wood in the kitchen too to make things look a bit more homely. It's a really bright space and has worked really well over the years."
The kitchen itself is set on open-plan with the spacious dining area which leads through to the lounge.
The eyes of visitors are immediately drawn to the solid oak flooring.
It features unusual and seemingly random strips of red, white and black throughout.
"The wood is actually from a reclaimed gym floor," said Lindsay, 29.
"We got the inspiration from being in a Nike shop as it had used an old gym floor instead of laminate and we really liked the look.
"We found our one in a place down in Kirkcaldy which refurbishes old flooring types.
"They gave it to us all in individual strips though so we had to spend hours cleaning it and getting it to look the way we wanted. It's been a bit Marmite among our friends as people seem to either love it or hate it, but we think it looks great and the good thing is it's solid oak so can always be sanded down in future to look different."
Another unusual feature of this open-plan space is the way that Scott and Lindsay have chosen to create storage.
Next to the fire, large circular steel drums have been fixed to the wall, currently holding the essentials for a cosy night in; firewood and wine.
"That was Lindsay's idea," said Scott.
"She saw it online but they were from a super high-end designer and cost thousands of pounds.
"So we asked a local blacksmith if he could copy the design and we ended up recreating it for a fraction of the cost."
Move through to the lounge and a bright and airy space is on offer, with an added balcony for soaking up the sun on lovely warm days.
The master bedroom is stylish and spacious with a large dressing area.
The space doubles as a nursery along with a modern en suite.
A further double bedroom also benefits from fitted storage.
Then a utility room and family bathroom complete the accommodation. Outside a large and well-maintained garden is shared by all occupants of the building, with green space leading right down to the river.
"There is no doubt we will miss living here," said Scott. "But with the dogs and now baby Freddie here we are looking to start a new chapter in the countryside.
"We've got our eyes on a project.
"But it will take a lot to beat Number 9."
Offers for 9 Kettocks Mill Road should be made in the region of more than £210,000.
Contact Ledingham Chalmers on 01224 632500.