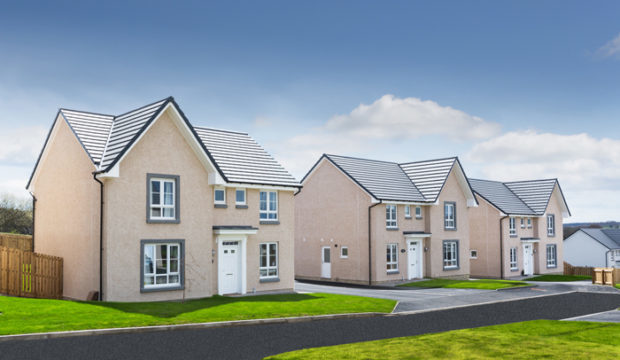 With so many products and incentives currently available in the market place, buying a new home can be a confusing business. But thankfully, housebuilders like Barratt Homes are working hard to demystify the process and make buying easy with a range of schemes, including part exchange.
Buyers with an existing home to sell and looking to move to a bigger home, can opt for the popular part exchange scheme.
Mike Cowie, Sales and Marketing Director at Barratt North Scotland, explained: "Typically the new home should be worth at least 20-30 per cent more than the customer's current home. This makes it the ideal option for growing families seeking to upsize or those moving to a new area where house prices are higher.
"And if a buyer falls into this category and is considering part exchange as a purchasing option, they can arrange to speak to one of Barratt Homes' expert sales advisors to find out if their property is eligible."
In recent months, Barratt Homes has seen a significant increase in the number of buyers making their next move using part exchange. It works by enabling buyers to sell their current home to the housebuilder they're purchasing from, and use the cash generated from the sale of their home as the deposit.
As a result, the buyer is able to make their move happen a lot quicker and easier by removing the need to market and sell their property.
Mike added: "This can save thousands of pounds in estate agency fees whilst also guaranteeing the buyer a fair price for their home by taking an average of two independent valuations as the agreed purchase price."
Once the sale is agreed, the buyer can then approach their lender to conclude the purchase of their new home. Barratt Homes currently operates two schemes – part exchange and part exchange extra. Part exchange (PX) applies to buyers of a new home where construction of the home is complete, or due for completion within eight weeks. In this case Barratt Homes would make an offer and purchase the home as soon as the offer is accepted.
Part exchange extra (PXX) applies to customers who have reserved a new home with more than eight weeks remaining between reservation and entry date. "The difference here is that the buyer receives a guaranteed minimum offer from Barratt Homes, whilst they still have the opportunity to market the home for sale on the open market and potentially secure a higher sale price," continued Mike. "But, if the property doesn't sell by eight weeks before entry, the customer has the comfort of knowing that Barratt Homes will purchase their home at the agreed price."
Properties that Barratt Homes has purchased through part exchange transactions and has now released to the market for resale can be viewed at www.oakleafhomes.co.uk/aberdeenshire/sales
Barratt Homes is offering buyers the chance to make their next move using part exchange at a range of developments including Osprey Heights in Inverurie, Parkhill View near Kemnay, Kingseat close to Newmachar, Riverside Quarter in Bucksburn, Allan Park in Cove and Westburn Gardens in Aberdeen.
For more information, visit www.barratthomes.co.uk/Offers/Part-Exchange-Campaign—Scotland/