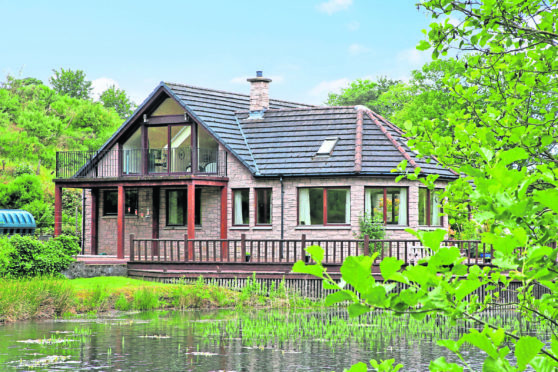 Tucked away in a secluded hollow, you'd be forgiven for missing Lochside Lodge altogether.
Even those who have lived in Turriff all their life have been surprised to discover this gorgeous family home, despite the fact it is only five minutes from the town centre.
Surrounded by woodland and with its own fishing loch, this four-bedroom property is rather special.
It is all the more remarkable that it was built in less then a year, after owner Charlie Ritchie realised the plot's potential. He wasted no time in knocking down two holiday chalets on the site to create his vision.
He has spent almost 20 years at Lochside and believes it is finally time to start a new project with his 10-year-old daughter, Charley.
That is not to say that the builder won't miss his slice of paradise, or misty mornings spent fishing just yards from the house.
This beautiful pad has been designed with views of the water in mind, and Charlie has even managed to record video of otters playing in the loch. "I had a vision and I've achieved it," he said.
"I'm a builder by trade and I knew this spot had potential.
"Obviously it's a bit more difficult where water is involved. If you're digging a hole next to a loch, you can get water coming in.
"I just jiggled about with the location.
"I was a building inspector at the time, so I worked on the house every spare hour I had.
"It's a kit house, so the frame gets delivered. I lived in one chalet while all the building work was getting done, before knocking it down when I was ready.
"I started work in May and moved in at Christmas."
Charlie's favourite room is the lounge, and it's not hard to see why.
It offers stunning views thanks to six sets of windows, and patio doors provide access to the decking and patio.
This room even features a vaulted ceiling with exposed beams, and an ornate multi-fuel stove.
"It's warm in here all year round, it's a lovely room to spend time in," said Charlie.
"I previously lived in Skye for 10 years and worked for the forestry commission.
"I've got a real passion for woodlands, and I love looking out at the trees.
"Some of the trees are 200 years old, and I was very deliberate in terms of what I planted.
"Twenty to 30 years from now, they'll blend in.
"I've spent my life working in the woods, and this house embodies everything I'm passionate about."
The dining room also offers gorgeous views, and there is ample space for a large table and chairs.
The versatility on offer means this space could be used as a living area.
The dining kitchen offers a duel-fuel cooking range and ample storage space.
Three bedrooms can be found downstairs, including the master bedroom. This fabulous room overlooks the gardens and comes complete with patio doors and an en suite.
A further bedroom offers an en suite, while the family bathroom has a lovely seaside theme – complete with a free- standing bath.
The first floor can be reached via an impressive staircase, which has a bespoke wrought-iron bannister and spindles. You'll find a large bedroom with en suite, sitting room and home office.
The sitting room is particularly impressive, with floor to ceiling windows and south-facing patio doors that lead out on to a lovely balcony.
This room doubles up as a cinema thanks to a huge screen, which will be included in the sale.
Charlie has worked hard on the beautiful gardens, which include a wild Rosa Rugosa hedge, large lawns and well-stocked flower beds.
There is a patio and decked area for alfresco dining.
The area beside the loch is planted with bamboo beside the south-facing gazebo and deck.
A gate at the rear leads to a sluice dam that controls the height of the water in the loch, which is also naturally fed by a freshwater stream.
Otters, Canada geese, deer, foxes, badgers, woodpeckers, goldfinches and red squirrels are regular visitors.
"We've even had an osprey in the past, and I've managed to catch the otters on film," said Charlie.
"It feels very secluded here, yet everything I need is only five minutes away.
"People who have lived in Turriff all their life don't know the lodge is here, it's the best of both worlds.
"Although I'm not a big fan of snow, it's very pretty here in winter.
"When the snow lies on the trees, it looks like a Christmas card.
"The first flush of green in spring is gorgeous, and this time of year is a riot of colour as well.
"This is a family house, it's too big for just me and Charley.
"We'll miss it for sure, but it's time for a change."
Offers should be made of more than £430,000.
Contact the owner on 01888 563791, or Raeburn Christie Clark & Wallace on 01467 629300.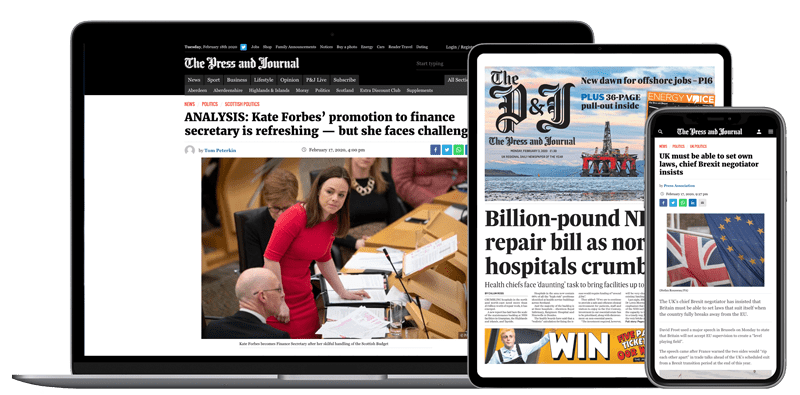 Help support quality local journalism … become a digital subscriber to The Press and Journal
For as little as £5.99 a month you can access all of our content, including Premium articles.
Subscribe