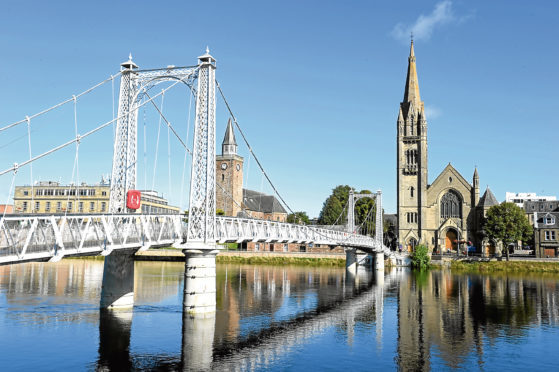 From amazing restaurants to beautiful scenery, it's not difficult to see why Inverness attracts thousands of visitors every year.
The capital of the Highlands welcomes people from all over the world with that famed Scottish hospitality, and a wee dram for good measure.
You can sample some of the finest cuisine in this cosmopolitan city before drinking in the stunning sights of Loch Ness only a few miles away.
With the first two months of the year finally done and dusted but spring not yet in full bloom, might it be time to pay a visit to Inversnecky?
Don't be put off by the thought of chilly weather for there is still plenty to do.
And you can avoid the crowds which flood in during the summer months, so pack up the car for a thoroughly Scottish staycation.
Although Inverness offers dozens of B&Bs alongside hotels, staying somewhere that bit different was something I was keen to try.
Myself and my partner were glad when we arrived at Highland Apartments.
The location alone had us sold, as the apartments are bang in the city centre and overlook the River Ness. Parking is provided in a secure underground complex which automatically gave us peace of mind.
The development is aptly named Living by the Bridge and our apartment offered gorgeous views of Ness Bridge, which is lit up beautifully at night.
There has been a bridge on this site since the 11th century and we were able to take in the views from our very own terrace on the third floor.
Despite the cold, we wrapped up warm and enjoyed a hot chocolate before remembering we had a whole superior apartment to explore!
Incredibly spacious, our pad provided the perfect base to relax and, although achingly stylish, it felt like a home away from home.
A spacious kitchen came with all the mod cons and handy supplies were even left in the fridge.
Milk, eggs and bacon – hello breakfast.
It is these small touches which made our stay so enjoyable and are par for the course at Highland Apartments By Mansley.
The open-plan living room offered great views over the river and the huge flat-screen TV was certainly a hit with my other half.
The bedroom also provided access on to the balcony, and the king-size bed was the answer to a good night's sleep.
We made the very most of our short stay in the city, exploring the historic site of Culloden battlefield before venturing to the beautiful Black Isle.
After a long day sightseeing, knowing there was a lovely bath just waiting to be used was certainly welcome.
With a wide choice of restaurants on our doorstep, it was a definite perk to head out for dinner without worrying about parking or who would drive.
Our break felt luxurious and relaxing, just as every trip away should.
But more importantly, it gave us the chance to spend quality time together.
There was no need to worry about early check out times or crouching over a small tea tray in a cramped bedroom.
Highland Apartments offers choice, style and the space to unwind at a bleak time of year.
That's not to say we won't be back come the summer, swapping hot chocolate for ice cream, if the Scottish weather allows.
TRAVEL FACTS
To book or for more information, visit www.bymansley.com