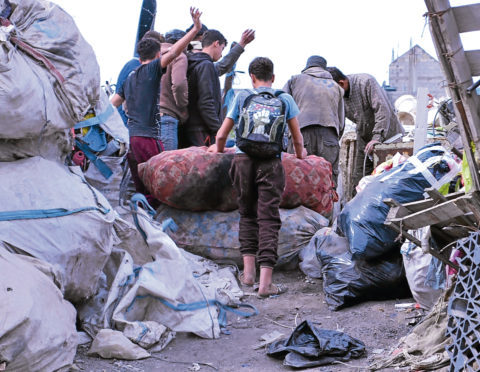 Fascinated by the lives of others, George R Mitchell gets under the skin of a country, often uncovering the dark corners of culture, politics and people. He now has 25 years of off-grid travel and 85 countries under his belt, and he's in no mood to stop just yet…
My fixer Rami and I met each morning at 8am. As we walked, we discussed what we had seen the day previous and what we hoped to accomplish during the day ahead. Interviews with armed political groups complete, it was time once again to focus on the reality of day to day life in Gaza. Clean water? Sewage? Efficient rubbish collection? Things most of us don't give a second thought to in the UK.
I had been granted an interview with the Director General of Health and Environment for the Municipality of Gaza, Abdel Abulkumboz. He actually spoke excellent English, so for once, Rami was merely an observer.
George Mitchell: "How many people are there in Gaza City?"
Abdel Abulkumboz: "700,000 live here, but there's up to one million in the day as people come in to work. And 97% of our underground water is badly contaminated. So, we did a proposal for a desalinisation plant, to make fresh water. We're still waiting for Israeli and international approval for this to happen. We made this proposal 10 years ago."
GM: "So where do you get fresh water from?"
AA: "Many things that are classed as 'dual-use' are banned by Israel, but we can buy water. However, after we buy it from Israel, then sell it on to our people, we actually lose money."
GM: "How much rubbish is created in Gaza city?"
AA: "750 tons per day."
GM: "The rate of recycling?"
AA: "Nothing. Zero percent. Since 2005, we have no garbage trucks. Two hundred and twenty donkey carts bring the rubbish from door to door all over the city, to a main dump. From there, it then goes out to a huge landfill site outside the city close to the border. We want trucks, proper garbage trucks. Israel won't allow us to import them. They say the mechanical parts may be stripped and turned into weapons and guns. I've told Israeli officials, you can put GPS and cameras on every truck we buy, you can see where they are at all times. I just want them for garbage collection. They said, 'Hmm, we'll see…'"
I looked at posters on the office walls showing numerous species of rat and cockroach and was told that infestations are common. The director told me under no circumstances ever to drink the water in Gaza, only bottled. He also told me not to even brush my teeth in the tap water and keep my mouth closed while showering.
AA: "You know, our landfill will be full to capacity in two or three years maximum."
GM: "Then what happens?"
AA: "There's going to be a humanitarian disaster in Gaza, it's coming. I'm not talking about rockets fired into Israel or Israel hitting Gaza again, I'm talking about the problems I've just outlined. One day, soon, the people will be able to take no more, and hundreds of thousands will march towards the division wall and demand they be let free."
One hour later, down by the sea, I was shown inside a sewage plant. Bearing in mind that with only maybe four hours of electricity per day, their pumps do not work and with little fuel for a generator, raw sewage is being pumped directly into the sea.
On the actual shoreline, standing on top of the pipe that was pumping raw waste into the sea, trying very carefully not to fall in, I took numerous photos. Pausing, I looked at the dozens of fishing boats moored just metres away and said to myself, I would never eat fish out of here.
Unfortunately, we had attracted unwanted attention. Hamas had spotted us; a man came over and challenged us as to what we were doing. Long story short, we were taken into a nearby hut with four men, my details were taken and phone calls were made, to whom I have no idea. Ten minutes later we were told we could go. One big burly Hamas guy then smiled and put out his hand towards me. I wasn't happy, and refused to shake his hand, saying to Rami that I wanted an explanation first. Rami, looking nervous said to me quickly and quietly: "George, shake his hand."
A voice in my head scolded me, telling me to remember where I was and who Hamas were. So, I shook his hand but made it clear I wasn't happy with the way we had been treated. His reply was translated back to me as: "There is no problem, you are welcome in Gaza."
One hundred metres away from this environmental and human health disaster, stands a brand-new gleaming mosque. It must have cost millions. Where did they find the money for this? Even if it was paid for by a foreign donor, surely they could have said, "Thanks, but we've got enough mosques, so can we spend the money on generators for a sewage pump system instead?"
By 2pm we were at the main garbage dump right in the middle of the city. All the rubbish from Gaza City comes here, by men who drive carts that are pulled by donkeys. It wasn't pleasant, and I viewed numerous men scavenging among the rubbish trying find anything of value.
From here, old trucks take the rubbish to the out of town landfill site. This main dump was bad enough, but nothing like what waited me at the landfill.
We drove for around 20 minutes out of the city and past a Hamas armed checkpoint, I was getting used to seeing men with guns everywhere. Eventually we trundled into a huge outdoor area, where around 50 metres away stood the landfill. I got out of the car and the stench hit me like a wall. I pulled my bandana tight around my mouth and nose, put on my sunglasses and began to walk towards it.
Rami followed, hesitantly behind. This thing was huge, it towered over me. I doubt my photo will capture the true size of it. Ninety percent of this could be recycled, it's a disgrace. I was told that one plant for recycling plastic had been built… but it's not working due to the Israeli blockade.
The smell was overpowering. I'm not talking about the whiff of a stinky bin in your kitchen, I'm talking toxic. I'd guess there must be a chance of picking up a serious disease around there. Flies buzzed all around me and I felt my skin crawl.
Just over the next field, literally a few hundred metres away, stood Israeli watchtowers, fences and the border wall with clean green and healthy Israel just behind.
I pulled my bandana even tighter round my face, but it was no use, I was almost gagging. I took some more photos, up close of a group of kids in an area of scrap metal vying for bits to sell on. It was time to leave.
Every day I spent in Gaza was completely different, but this one, learning about and seeing the sewage and rubbish problems, was probably the most depressing for me. Back in my hotel room that night, before the electricity cut out, I wrote down my thoughts.
Let's put aside blame, politics, rockets and attacks by both sides. Let's ignore the "they did this and they did that" cries from both sides. The infrastructure and environment in Gaza is at near breaking point.
The vast majority of Gazans, who are totally innocent of terrorism, are suffering because of the actions of a very few. People are living in filth. Blame? All sides and all factions must shoulder a portion of responsibility here and now.
It's about time human life was put ahead of political and military agenda. Will that happen? No, I'm under no illusion, of course it won't happen.
But, I do believe that a full-blown ecological and humanitarian disaster is coming. It has been reported by the UN that if nothing changes, Gaza could become uninhabitable by 2020. That's only two years away…
What happens then to its two million people? I'd say watch your TV screens for the sight of hundreds of thousands of civilians clambering to get out of this polluted prison.
I'm led to believe that Israel is secretly very fearful of this scenario. It should be, because if Gaza does become uninhabitable, I fear there's going to be a stampede of biblical proportions of civilians trying to get into Israel.
NEXT WEEK: Heart-breaking and heart-warming stories from children inside Gaza's schools…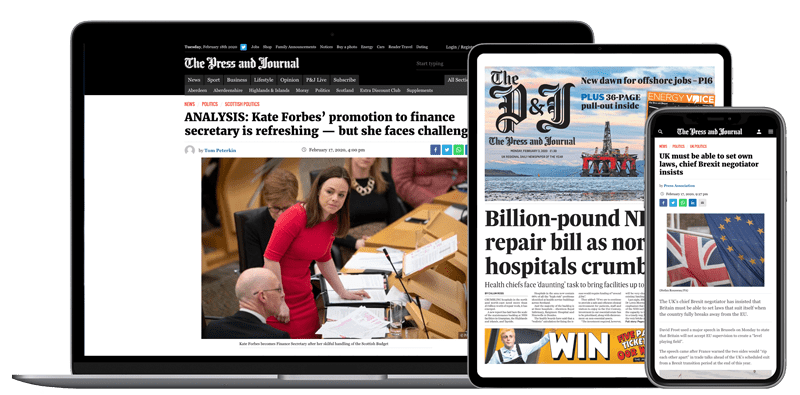 Help support quality local journalism … become a digital subscriber to The Press and Journal
For as little as £5.99 a month you can access all of our content, including Premium articles.
Subscribe