Richard Rooney visits Antrim's Causeway Coast and discovers a region brimming with excitement as it prepares to host the Open Championship for the first time since 1951
It's shortly before 10am on a perfect October day and I'm staring at a small white dot against a bright blue sky.
Minutes earlier, I had overcome a serious bout of nerves and managed to send a decent drive down the first fairway of the hallowed Dunluce Links at Royal Portrush Golf Club.
Off to my left is a dramatic rocky coastline, on this sunny morning looking more like an Aegean seascape than anything I'd imagined Northern Ireland's north coast could be. To my right is the small town of Portrush, quiet now but soon to be invaded by the world's golf fans for one of the most keenly anticipated Opens in generations.
But right now I'm focused dead ahead as I watch my second shot descending towards the green.
Flag stick…ball…flag stick….ball. My eyes flick between the two and they're getting ever closer. This looks good. This is not what I'm used to.
As it disappears from my view on this uphill opening hole, I switch my gaze to the group out before us.
They're watching from the next tee and their reaction will tell me all.
Arms are raised. A couple of players start to clap. Can it really be?
I climb up to the green and there it is. My ball. Little more than six inches from the cup. A tap-in birdie on the first at Portrush. Where Rory & Co will be going at it for the Claret Jug this summer.
Welcome to North Antrim's Causeway Coast, where dreams really can come true.
---
Made for golf
I'm on a midweek break with a group of golf fanatics from all over the UK and we've already played the Castle Rock and Portstewart courses on the build-up to our date with the legendary Portrush links.
Three extraordinary courses in their own right, there's little more than six miles between them and they give our 16-strong party moments of incredible highs and soul-searching lows as we pit ourselves against some of the most notorious tests in links golf.
There was no need for bulldozers here; Mother Nature did most of the hard work eons ago. The punishing fairways and bunkers laid out between the towering dunes beat us all up at some point, but we come out the other side smiling and fully understanding why this stretch of coastline is on so many players' bucket lists.
Northern Ireland is "Made for Golf", say the tourist brochures. We see why.
---
So much to see
The week had started with an easy pitching wedge of a flight from Edinburgh and, with barely time for a coffee on board before descending into George Best City Airport for our group's rendezvous, I arrive fully refreshed and raring to go.
The guidebooks say we should take the Causeway Coastal Route out of Belfast, rated as one of the top five most exhilarating drives in the world. The meandering road passes an almost impossible array of sights, from picturesque seaside villages and castles to dramatic clifftops and islands.
On its way north the route even skirts the geological phenomenon of the Giant's Causeway, a Unesco world heritage site.
But we hardly feel short-changed by our inland shortcut, particularly as our tour guide Billy has another story to tell every time we turn a corner.
Ancient estates, lords and ladies, rebellions and sieges, family feuds and murders…it all sounds very Game of Thrones. Fitting then that our chosen route passes close by The Dark Hedges, a historic tree-lined avenue that features in the hit HBO TV show and which attracts thousands of devoted Thrones fans from all over the world every year.
Its profile already on the rise, Northern Ireland's tourism industry is about to be turbo-charged when an extra 200,000 people arrive this summer for the first Open to be staged here in 68 years.
Such is the level of interest, the R&A has had to introduce the first spectator limit in the tournament's 159-year history. The championship days have long since sold out out and it's going to be one almighty party for those lucky enough to have snapped up tickets.
But even if you can't make it in July, the good news is you'll find the same outstanding hospitality whenever you visit.
And it is this warm Irish welcome that may just linger longest of all in my memory.
---
The warmest welcome
From the moment we arrived, we were treated to a level of care, pride and attention on the visitor experience that is truly the rival of anywhere in the world.
Our base for the week was the charming Bushmills Inn. Once the main stopping off point for travellers making their way by horse and cart to the Giant's Causeway, it has been updated and extended over the years but still maintains a network of nooks and crannies and cosy fireplaces that provide the perfect place to rest some tired legs after a long day on the course.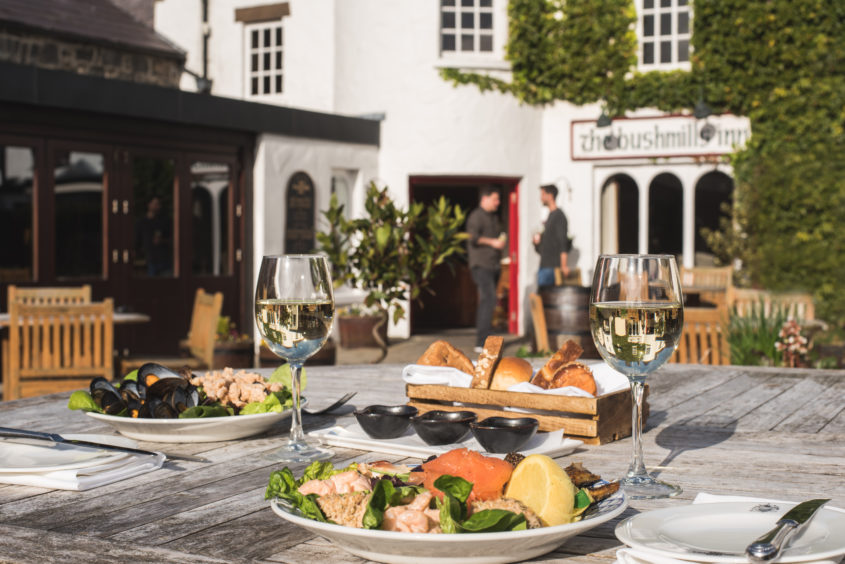 We even see a minor miracle happen in front of our very eyes. How can it be that so many of our exhausted party, who can barely muster the energy to make it down to the inn's AA Rosette restaurant, then rise from the table a couple of hours later full of good cheer and ready to see the wee small hours in the busy bar where live music and a bit of the craic are always on tap?
Still don't believe little old Northern Ireland has world tourism credentials? Any lingering doubts would surely be dispelled at the Galgorm Resort, where those with deep enough pockets can find out why it was named Global Luxury Spa Hotel of the Year at the 2018 World Luxury Hotel Awards.
The 122-bedroom hotel already features a stunning selection of dining, entertainment and leisure experiences – its thermal spa village is verging on fantasy – and we enjoy a very grand evening in its conservatory looking out over the River Maine while sampling a selection of the hundreds of different bottles stocked in one of the most amazing gin bars you'll ever see.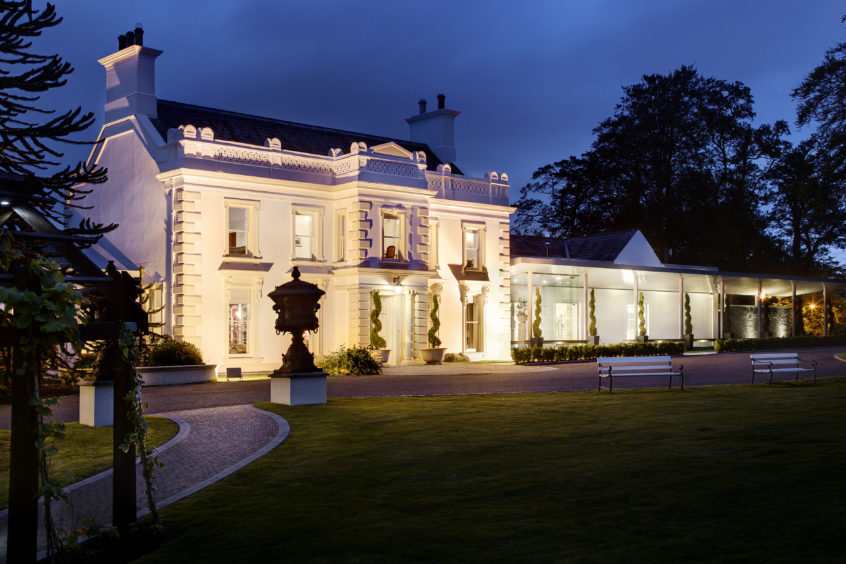 With such a sophisticated offering already in place, we're amazed to hear that Galgorm's owners are just getting started. We're shown plans for a £14 million expansion, dominated by a new rooftop spa and 64 extra bedrooms. It's clear that key decision makers in Northern Ireland's tourism industry see its year in the spotlight as the start of something even bigger.
But it's not just at the millionaires' end of the market that the effort is being put in. From shop workers to bakery owners to those I chat with over a pint in the pub, I find a collective determination from people from all walks of life to ensure 2019 shows the world what North Antrim and the country as a whole has to offer.
This was most thrillingly displayed on our final evening at the Tartine Restaurant at the Distillers Arms back in Bushmills village.
With the realisation that this brilliant trip is almost at an end, I wonder if the atmosphere will be subdued.
I shouldn't have worried.
Our young chef for the evening, Stephen Lampard, makes his way into the dining room and nervously begins to read out a speech he's prepared to introduce tonight's special menu.
And then… something happens. The notes are thrown to the ground and our man launches into an impassioned and heartfelt explanation of why it matters so much to him, as a local boy born and bred, that he does justice to the producers working so hard to put Northern Ireland on the culinary map.
We're completely hooked and, as he dashes off to the kitchen, the fun begins.
Suddenly, we're amid a whirlwind of plates and glasses as the whole team launch into a high-energy showcase of the area's finest fare.
There's fennel salami and chorizo from Corndale Farm near Limavady; hake caught off the Causeway coast only hours earlier; delicious  glorious – Guinness wheaten bread. All the while, drinks ambassador "The Whiskey Lad" is charging our glasses with local beers, gins and drams.
The room is alive with conversation and laughter as we savour one of those nights you know you will never forget.
But, impossibly, the best is yet to come.
Stephen re-emerges and explains he has spent the afternoon around an open fire at a friend's farm hay-smoking our steaks. His method gives them a special flavour, he says.
He's not kidding.
I've claimed it a few times over the years but this undoubtedly, definitively, is the best steak I've ever tasted.
Nothing could better have summed up the warmth, passion, humour and character you'll encounter in Northern Ireland than this night.
When the plates are cleared and the Tartine team come back out for some final goodbyes, we burst into spontaneous applause.
Like the one that will be given to the champion golfer of the year in July, it was richly deserved.
---
Info:
Two nights' bed and breakfast at the Bushmills Inn with golf at Castle Rock, Portstewart and Dunluce Links Portrush costs from £625.
Useful links:
www.ireland.com/en-gb/what-is-available/golf/destinations/northern-ireland/articles/the-open-in-northern-ireland
discovernorthernireland.com/about-northern-ireland/destinations/causeway/causeway-coastal-route