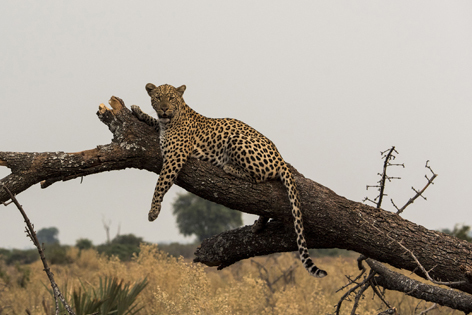 Whatever the occasion, loved-up couples are best avoided, and that rule especially applies to any amorous pairs getting down to the nitty-gritty. But when I stumble across two frenetic felines romping in the undergrowth, I'm forced to make an exception.
Spotting a leopard in the wild is good fortune; finding two is a heart-racing, magical affair.
Using the bristly foliage of a woolly caper bush for modesty, two of Africa's most elusive cats are mating. Having safely secluded a kill, they'll stick to this spot for two or three days, climbing trees and chasing each other through long, flame-red grass, before parting ways and never meeting again.
It is sightings such as this that, in part, justify the hefty price tag attached to a safari in Botswana, one of the most expensive but enduringly popular destinations in Africa, and a particular favourite for honeymooners.
This September, the former British protectorate celebrates 50 years of independence, and having been tipped by Lonely Planet as the top country to visit in 2016, tourist numbers are set to further swell.
Along with a good track record for safety and a strong government commitment to conservation, it's the diversity of landscapes and unique animal adaptations that make Botswana so special.
From above, the Okavango Delta resembles the cracked topping of a creme brulee, with myriad narrow waterways dissecting otherwise barren earth. Conical termite mounds spiral skyward like wizards' hats, making up 96% of the palm-dotted islands of the floodplains.
Occupying a quiet spot in a 77,000-acre private concession, the recently reopened six-tent Great Plains Duba Expedition Camp is far removed from any outside contact: there's no phone reception, Wifi connection or any other lodges.
At night, I watch fireflies dance on my porch way, and wake up in the early hours to hear a lioness shuffling close to my canvas walls with a kill, leaving only drag marks in the dust to tell her tale.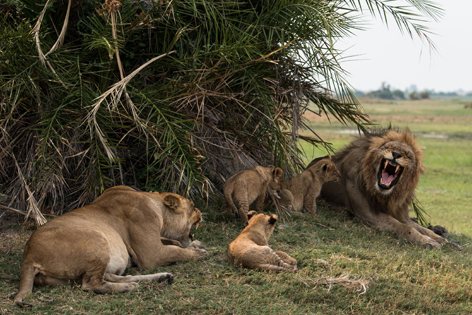 Aside from solitude, one of the obvious plus points of Duba is the opportunity to drive off-road. Heading out after dawn, we cut through long blades of dew-glistening silky bushman grass, sending startled red lechwes splashing into the waterways.
My driver, KB, introduces us to the resident Tsaro lion pride, the stars of several nature documentaries made by National Geographic film-makers Dereck and Beverly Joubert, who own the Great Plains safari company.
The Tsaro pride's story is a soap opera of power, turf wars and female infanticide, although now only a few of the original players remain. Famous for their ability to hunt herds of buffalo, often chasing them into the water until they get stuck in the mud, the big cats have also learned how to swim, developing muscular physiques as a result.
We watch one Herculean male attempt to regroup with a lioness and her young. But keen to keep her young cubs safe, she snarls to maintain some distance, demonstrating might is no match for the strength of motherly love.
Aside from drama in the bush, another reason for Botswana's popular appeal is the quality of luxury lodges available.
Arbiters of five-star luxury, the Belmond group has several properties here, including Khwai River Lodge on the edge of Moremi National Park.
Set alongside a river, wooden bungalows on raised platforms are kitted out with air-conditioning, fluffy towels and (albeit made from recycled elephant poo) headed notepaper, making the property more akin to a slick hotel than a safari lodge. The option to eat meals in private, rather than at a communal table, also better suits some honeymooners.
Regardless of accommodation tastes, the quality wildlife sightings and guiding meets any seasoned safari-goer's expectations.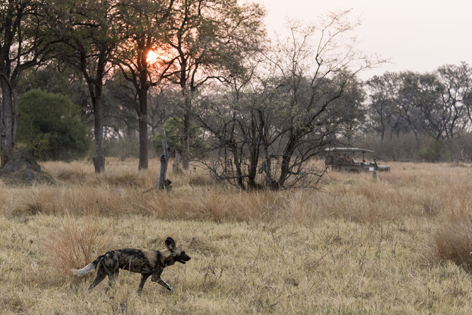 Botswana is one of the best places to see African wild dogs, listed as Endangered on the IUCN Red List, and Moremi is a particular hotspot.
Packs enjoy complex social relationships, and their hunting game plans are some of the most strategic in the bush, making them fascinating to watch. Keeping pace with them can be challenging, but my private guide, Moses, gives it a go.
Tearing through the concession shared with several campsites and self-drivers, we attempt to follow a pack of dogs in relentless pursuit of an impala.
The dogs ricochet around the mopane forest like steel bullets in a pinball machine, occasionally calling to regroup and assess options. Several roll around in elephant dung to disguise any scent, but despite their efforts – and ours – the action falls short of any conclusion.
Our day does not end at sunset, though.
After dinner, I join Moses for a night drive, combing woodland for wildlife until 10pm. This late, we're able to watch a leopard stalking prey as shooting stars pass overhead, and even catch sight of a young aardvark snuffling in the soil. In his 15 years of guiding, this is only the second aardvark Moses has seen, and for the next 48 hours he can't stop smiling.
Glimpsing these nocturnal creatures is rare, but one animal extremely common to Botswana is the elephant. A ban on hunting and a tight handle on poaching mean numbers here are exceptionally high, representing 40% of Africa's population.
Chobe National Park, on the border of Namibia, attracts vast herds in the dry season (particularly from August to October) when they come down to drink at the Chobe River.
Busy gateway town Kasane is a shocking contrast to the wilderness experience I've been enjoying for the past few days. Fortunately, andBeyond's mobile camp, buried deep in the park's mahogany woodland, provides an escape route from the limited and congested pathways of the national park.
The comfortable camp with bucket showers shifts location every five days, and after the park gates close and vehicle engines cease rumbling, it's possible to savour Chobe at its best.
This season the river is at its lowest level for 25 years and much of the greenery has disappeared, leaving waterbuck to gnaw at the skeletons of acacia trees while overheating hippos are forced to graze in the hazy midday sun.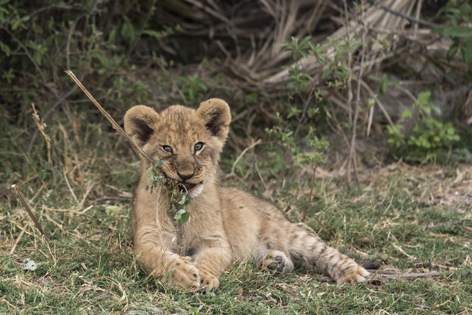 Not everyone, though, is so fortunate in the fight for survival. On a late afternoon game drive, we come across an injured and emaciated seven-month-old cub, lagging woefully behind a pride of lions, his low moans lost in the wind.
Desperately willing for a textbook Disney outcome, I long for his mother to turn around.
She does. But after a brief hesitation, she accepts his fate and walks away.
After all, not every story has a happy ending – even in a honeymoon destination.
TRAVEL FACTS
Sarah Marshall was a guest of The Ultimate Travel Company (020 73051 8098; theultimatetravelcompany.co.uk) who tailor-make a classic week-long Botswana safari from £6,860 per person.
A two-night stay at Duba Expeditions is followed by a further two nights at Belmond Khwai River Lodge, before a final three nights at Chobe Under Canvas. All meals, drinks and activities are included, as are British Airways flights from Heathrow, bush flights and private transfers throughout.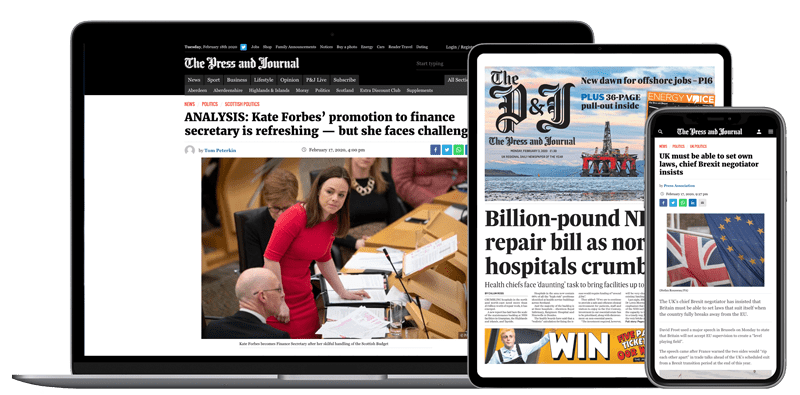 Help support quality local journalism … become a digital subscriber to The Press and Journal
For as little as £5.99 a month you can access all of our content, including Premium articles.
Subscribe