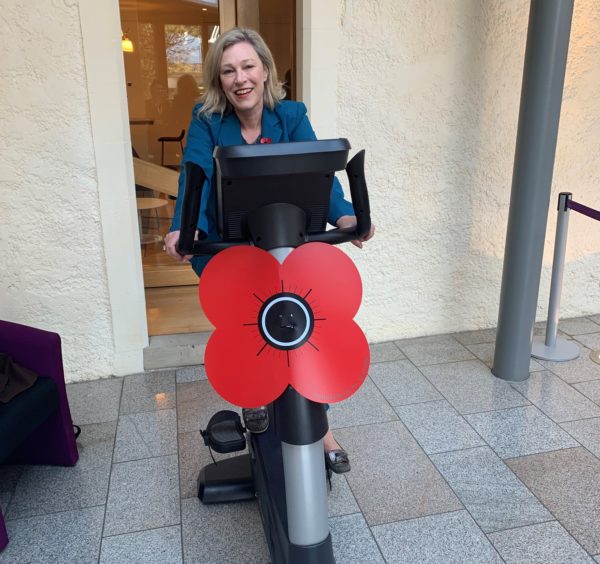 A north-east MSP has taken part in a charity event, organised by Poppyscotland, which puts politicians on an exercise bike to see who can cover the greatest distance.
Gillian Martin cycled 2.73km in just four minutes in a bid to raise awareness of this year's appeal as Remembrance Day beckons.
The Scottish Poppy Appeal is Scotland's largest annual street collection and helps to raise millions of pounds every year which the organisation uses to support the country's Armed Forces community.
This week, more than five million poppies and 60,000 collecting tins have been distributed around Scotland as the public is encouraged to wear a poppy.
Ms Martin said: "I am proud to lend my support to this year's Scottish Poppy Appeal and to do my little bit to encourage us all to contribute to Poppyscotland as they continue their ongoing work to support the Armed Forces community.
"The launch of the Scottish Poppy Appeal is a very important date in the calendar of Remembrance and I will certainly be putting on my poppy with pride to remember all of those who selflessly served our country, both past and present.
"It really does feel like a time when the country comes together to support a common cause – and we need that more than ever in these chaotic times."
Poppyscotland chief executive, Mark Bibbey, said: "We congratulate Gillian and all her parliamentary colleagues who showed what good sports they were by taking part in the 2019 Poppy Ride.
"While there were lots of laughs and banter along the way, it was important opportunity for Poppyscotland to highlight the issues facing the Armed Forces community and remind our politicians why the Scottish Poppy Appeal continues to be so vitally important in raising funds to support them."