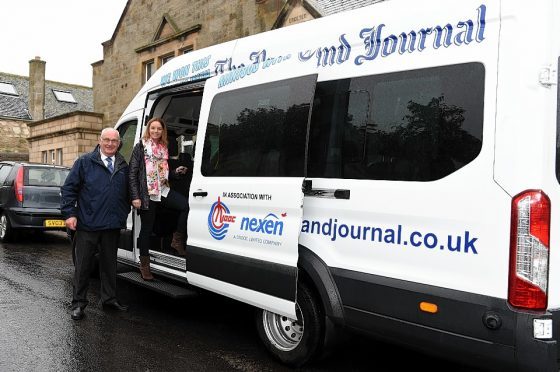 The winners of the Press and Journal mini-bus are getting ready to reap the benefits of having their own set of wheels.
The Hopeman Community Group's application was selected from more than 200 entries to our fantastic competition earlier this year.
The 17-seat, £37,000 Ford Transit vehicle, which was donated by offshore firm Nexen Petroleum, will help a range of groups get around.
And one of the main aims of the Hopeman Community will be to use it to bring young and old residents together.
Villagers collected and submitted more than 4,000 tokens for the competition, with some dedicated senior citizens even cutting out and saving them from their hospital beds.
Since receiving the vehicle, the Hopeman Community Group has been busily preparing it for life on the road.
Carmen Gillies, who led the campaign to secure the mini-bus, is now shaping plans for the long-term future of the bus.
The former flight controller at the Lossiemouth and Kinloss RAF bases said she was running a "military operation" to ensure proper arrangements were made before it makes its maiden voyage.
She said: "About a week after we got the bus we had a really busy public meeting discussing how it should be used, and who by.
"Now I'm in the process of sorting out the legal and official side of things, and getting drivers accredited by Moray Council.
"There has been a lot of work, there is more to this than a lot of people might expect.
"But we are going through the right hoops to make sure we are equipped and informed enough to make the correct decisions.
"If it is set up the right way, then it will be plain sailing for the next 20 years."
The Hopeman Community Group is aiming to have the bus in use by the various interested groups by spring.
Moray Council's newest member, Dennis Slater, championed the campaign to secure the bus and rallied locals into amassing the huge haul of tokens.
The Heldon and Laich representative said: "The effort involved in getting the bus just shows that community spirit is alive and well in Hopeman."