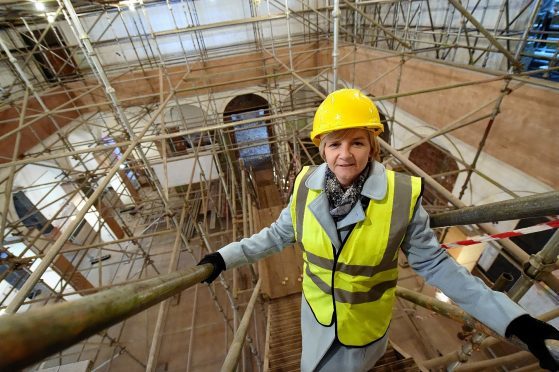 Work is well underway to transform the art gallery into a masterpiece.
The P&J was yesterday given an exclusive tour of the work site, seeing for the first time how the building has been stripped right back.
The resplendent, marble-clad halls of the building, which first opened its doors to the art lovers in 1884, are currently coated in scaffolding, with workers attached to ropes as they perilously balance to carry out their tasks.
Down below, the team are hard at work laying the new floor in the old war memorial room.
The bases of the elevator shafts have already been put in place, which will eventually provide better access for disabled visitors to the gallery – who previously were forced to use the service elevator to fully explore the building.
A whole new floor is also being built upon the pink granite roof. The foundations are currently being laid for the new copper-coated building which will take pride of place above the Victorian building, providing space for gallery visitors to enjoy stunning views towards Schoolhill, Union Terrace Gardens and Belmont Street.
The keys to the iconic gallery were handed over to Belfast-based contractors McLaughlin and Harvey last July, marking the start of the redevelopment.
Designed by Hoskins Architects – the firm which drafted the blueprints for the National Museum of Scotland – the plans will keep some of the gallery's Victorian heritage.
Teams have been carefully removing original fittings from the gallery and the adjoining Cowdray Hall and Hall of Remembrance to make sure they are not damaged during the refurbishment process so that they can be refitted at a later date.
The historic granite archways have also been preserved.
The works have uncovered many secrets of the city's past – including 92 skeletons – but spotted on the wall yesterday was a lighter throwback – the names of some of the workers involved in project dated 1926.
Hundreds of staff are working on the project, which is still on target to be finished by next winter.