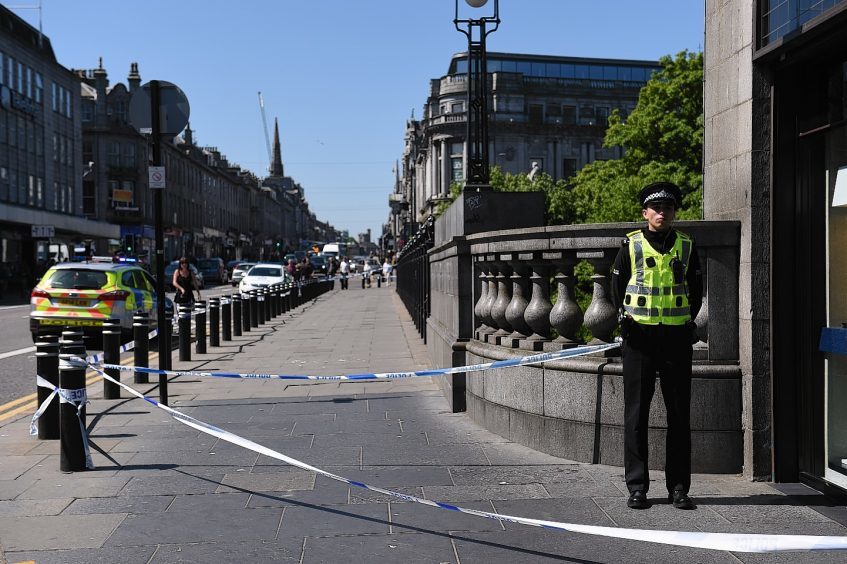 A man has died after falling from a bridge in Aberdeen city centre.
The man plunged onto the southbound carriageway of Denburn Road from busy Union Bridge at 10.40am yesterday.
Emergency services attended the scene within minutes.
Police closed the road in both directions between Woolmanhill roundabout and Union Bridge.
Two police units were parked on the bridge and officers had cordoned off a short section of pavement while the incident was ongoing.
Two police vans and several cars could also be seen beneath the bridge.
It is understood paramedics attempted to resuscitate the injured man but he died at the scene.
The road was closed for several hours.
One shocked onlooker, who was working nearby at the time, said: "I just heard a scream and when I looked out everyone was looking over towards the bridge.
"Two cars pulled to a stop and a woman came rushing out of the driver's seat of one of the cars and ran round and looked through the bridge.
"It was awful. Everyone was really upset."
Another shopper said: "I was just standing outside Primark and we heard someone shouting.
"Everyone on the street was staring and a lot of people were reaching for their phones to call the police.
"They got here really quickly and went about closing the road and the pavement.
"It's just very sad that this keeps happening here."
A woman was left in critical condition after falling from the same bridge just over seven weeks ago.
The 36-year-old was taken to Aberdeen Royal Infirmary by ambulance after landing on the Aberdeen-Inverness rail line.
For people who might be seeking some support in coping with life, Breathing Space is a free, confidential service for people experiencing low mood, depression or anxiety, available weekday evenings and 24 hours at weekends. They can be contacted on 0800 83 85 87.
The Samaritans offer a free and confidential emotional support service for people who are experiencing feelings of distress or despair.
Samaritans are available 24 hours a day, every day of the year, on telephone 116 123.