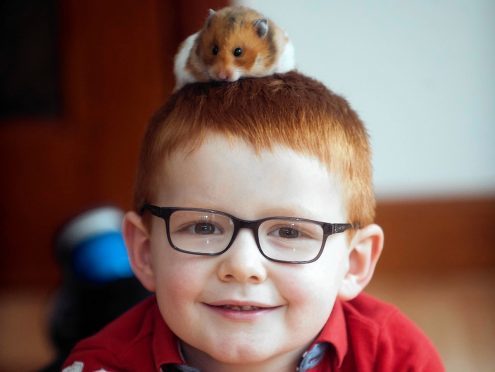 A Houdini hamster that survived in the wilderness for six weeks after escaping its cage has been returned to its owner.
Liam Lawrie was distraught when his new pet Gingy the hamster broke free from her enclosure at the family home.
Five-year-old Liam and his parents Nicola and Jonathan scoured their house to find the devious pet and even feared the creature had been eaten by one of their dogs.
Then – almost six weeks later – Liam and his beloved Gingy were reunited after she was found at a care home around a mile from where the Lawries live in Peterhead.
Last night Mrs Lawrie said: "We have no idea at all how she escaped. We noticed we had no mess around the cage so I told Jonathan to check her bed as we really thought she had passed away.
"We he checked there was no sign of her."
Mrs Lawrie said she and her husband turned their house "upside down" in their hunt for Gingy, even discovering a burst water tank along the way.
She added: "Liam was distraught as he had tamed Gingy. Then five weeks after she disappeared we got the call she had been found. It's a miracle she survived so long outside."
Gingy was eventually found by a member of staff outside Peterhead's Allandale House care home.
She took him home and the next day – in a remarkable twist of fate – sent her husband to the local pet shop Paws and Claws where Liam's aunt Anna Anderson is the manager.
Last night she said: "He came in to buy a cage and food and ask what else he needed for a hamster. After speaking to him for a bit he told me his wife had found a hamster at work the night before."
The home is in the same street as the Lawrie's home and when Mrs Anderson showed the customer a photograph of Gingy, he confirmed it was the same pet.
"Liam was over the moon, couldn't believe she was found. He loves her to bits and they are best pals because she is ginger too. I searched for months trying to get a ginger hamster in this area as he had said he wanted a ginger one so he wasn't the only ginger in the family."