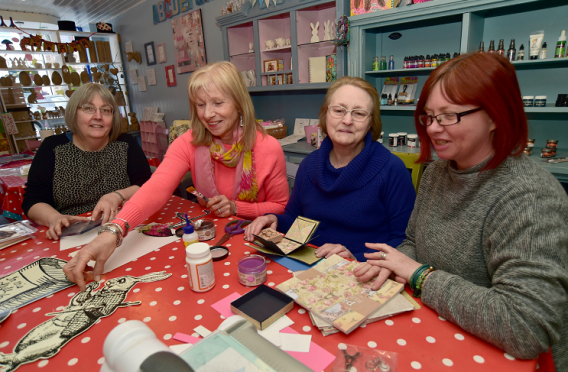 An artistic group of north-east people will take part in a mammoth effort to raise money for a mental health charity.
Turriff craft shop, Madhatters, will open its doors next month to artists who want to help raise cash for the mental health charity Mind.
Anything created during the day will then be sold at the town's annual May Day celebration, to boost the coffers of the Scottish Association for Mental Health.
Last night, shop owner, Wendy McLaren, said the event would have something for crafters of all ages to get involved with.
She added: "We have a big craft group that meets here, and a few of our members have connections with the work the charities do and with people who have mental health difficulties.
"We've very excited to get started. It will begin at 10am on April 22 and will run right through until 10am the next day.
"We're expecting a few die-hard crafters to do the whole 24 hours, who have been sponsored, making various things from cards to canvasses.
"But we'll also have lots of children's activities on during the day for families.
"At Turriff's May Day event, we'll then sell anything that's made."
Mind provides advice and support to anyone experiencing mental health problems, providing supported housing, drop-in centres and training schemes.
SAMH has been in operation since 1923 and operated more than 60 services in communities across Scotland.
These include peer support groups, therapeutic horticulture, and help for people recovering from addiction.
Madhatters' craft-a-thon will take place on Saturday, April 22 and last until 10am on Sunday.
Turriff's May Day celebrations take place on the first Monday of May every year.
The festival regularly attracts hundreds of people to the town.