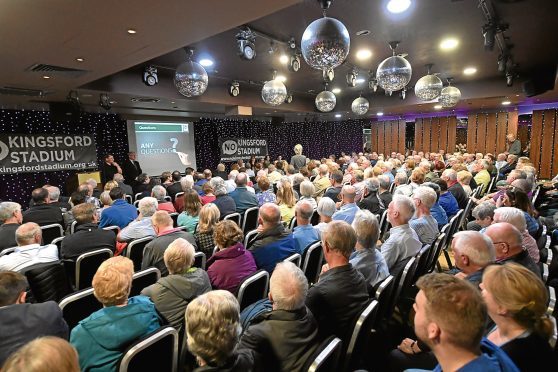 A campaign group opposing the construction of a proposed new stadium for Aberdeen Football Club at Kingsford met last night and agreed to stage a protest when city councillors carry out a site visit later this month.
More than 320 people attended the public meeting of the No Kingsford Stadium organisation at the Holiday Inn in Westhill.
The £50million proposal for a 20,000-seat arena, training academy and heritage museum at Kingsford – between Westhill and Kingswells – will be considered by the city council in October.
Plans for the major new development have been backed by a number of high-profile figures, including former AFC boss Sir Alex Ferguson, as well as club heroes Willie Miller and Bobby Clark.
The No Kingsford Stadium has campaigned against the project since it was first put forward, highlighting a number of environmental concerns about the site being built on green belt land, the potential for an increase in traffic, and other issues.
Yesterday evening concerned residents raised fears that the new stadium would result in double yellow lines and controlled parking zones being put in place throughout their communities.
Following a presentation on the group's continuing battle against the proposals, Diane Reid, one of the directors of No Kingsford Stadium, called on those against the project to make their voices heard by protesting when Aberdeen City councillors carry out a site visit on September 11.
She also asked residents to pledge money towards a potential legal battle against Aberdeen City Council if the plans are approved on October 11.
Yesterday, Ms Reid said: "There are all sorts of people endorsing it, from Sir Alex Ferguson, to lots of businessmen in Aberdeen, but these don't matter because this is about planning, and when an application is unlawful, celebrity endorsements count for nothing."
George Yule, executive vice-president of AFC said: "We were not invited to the meeting and apparently no one in favour of our proposals was allowed to speak at it to counter some of the misinformation.
"Many of the misconceptions are based on incomplete information at the early stages of the consultation. The most recent and extensive detailed reports and studies on the council's planning website do address key issues, particularly around site selection, traffic management and transport.
"I cannot stress enough that we want to be good neighbours and, if our plans do go ahead, then we want to work with the community and demonstrate just how great the community aspects of our facilities could be for everyone."