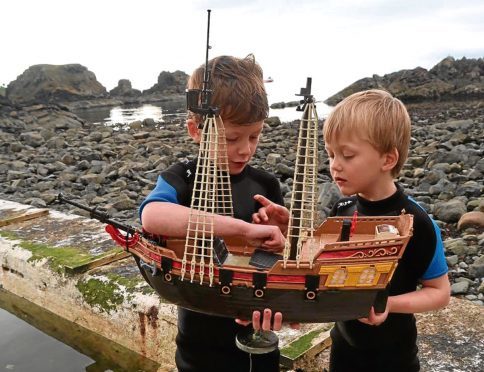 Two young brothers are delighted after their toy pirate ship travelled hundreds of miles from Scotland to Scandinavia.
Eight-year-old Ollie Ferguson and sibling Harry, five, first launched their Playmobil ship from Peterhead, Aberdeenshire, at the end of May.
It sailed about 390 miles to Denmark, where it was found by a family who sent it on its way. Its next stop was Sweden, where it ended up in a tree and it then travelled on to Norway, where it was found by nature officials.
The boys' father MacNeill Ferguson said: "Everyone that has picked it up has been really kind and sent us photos and looked after it. People are really getting into the spirit of it.
"The boys have enjoyed it and every time we get a message telling us where it has landed we get on the computer and work out where it went, so they are tracking its progress on the map and it gives them an understanding of how big the world is."
The ship, named Adventure, carries a message asking anyone who finds the boat to send them a picture and launch Adventure back into the sea.
Mr Ferguson, 44, is pleased it has travelled so far. He said: "I was concerned that the currents along the coast would take it down the north-east coast of Scotland, so I was over the moon when it made a beeline for Scandinavia.
"It reached Denmark and then Sweden, where it was picked up by a lady who was sailing her own boat and found it in a tree. She was really kind and remade the sails for it.
"Then it was picked up by a Norwegian conservation vessel."
The Adventure is now being taken aboard the Christian Radich, a Norwegian full-rigged ship, which will carry the vessel down to Cape Verde and then launch it, giving it the chance to sail the Atlantic.