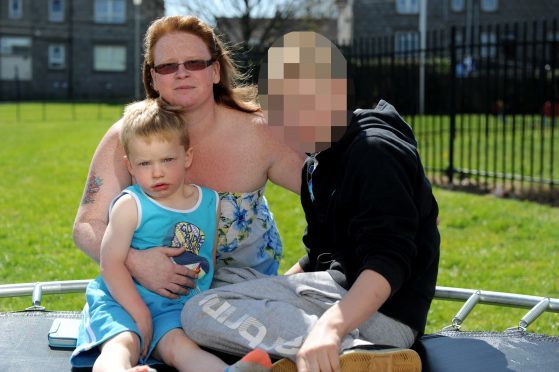 Firefighters who attempted to save a mum and her son from the North Sea are among 47 Scots who have been handed awards for their bravery and heroism.
Martin Vardy and James Lawrie were deployed by watch manager David Gordon to rescue Julie Walker, 37, and six-year-old son Lucas from the water at Aberdeen beach last August.
Lucas had been swept out to sea, prompting his mother and brother Samuel, 13, to leap in after him.
Both Julie and Lucas died after struggling against the current, while Samuel was taken to hospital.
Using specialist training, the firefighters helped rescue the family from the water, giving rescue breaths to Lucas before he was picked up by a lifeboat, and CPR afterwards.
The three men were previously given the Chief Officer's Commendation for their efforts, and last night were presented with a Brave@Heart award by First Minister Nicola Sturgeon.
Aberdeen men Kevin Clarke and Russell Shum were also rewarded at the Edinburgh Castle ceremony.
In 2015 the pair raced into a burning building to rescue a pensioner in the city's Bridge of Don, with Mr Clarke requiring treatment for smoke inhalation afterwards.
Attendees were told of many inspiring stories throughout the glitzy ceremony, including that of Elisabeth and Paulus Temming, who own the Flodigarry Hotel on the Isle of Skye, and their employees Leon Passveer and Mark Thornber.
In the early hours of one Sunday morning a fire broke out in a caravan parked in the hotel grounds, where one employee was sleeping.
The fire and heat made it impossible to open the doors, and the blaze was too strong to be tackled by fire extinguishers.
Mrs Temming threw a beer keg through the caravan window, allowing the group to pull their colleague to safety mere seconds before the caravan was completely engulfed in flames.
Ms Sturgeon said: "Each year I am honoured and humbled to be able to present these awards to individuals who have demonstrated extraordinary bravery.
"This is our chance to say a heartfelt thank you to those who, every day risk their lives in their professional roles and to members of the public who have stepped in to help a fellow citizen in danger or distress.
"Everyone who has been nominated for an award is a credit to Scotland and an inspiration to us all."